&nbsp North Chiwaukum Tour - Lk. Ethel to Whitepine Ck. via Pt. 7534, December 2004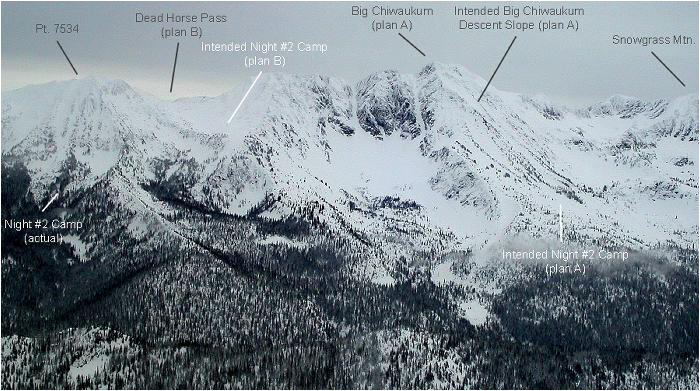 Big Chiwaukum as seen from summit of
Jim Hill
(from west).

With time to burn between Christmas and New Years, Tod and I embarked on another adventure deep in a remote corner of the Central Cascades. Having been in the Chiwaukums before (Icicle Creek to Whitepine Creek via Snowgrass Mountain), Tod was quite familiar with the area. This time, however, we'd approach the range from the north, via Lake Ethel, and traverse the northern crest of the Chiwaukums as far as possible before being forced to descend into Larch Lake basin. The original itinerary called for the summit of Big Chiwaukum via a shallow saddle directly above and south of Cup Lake. We'd then tour up Chiwaukum's east facing remnant glaciers (an area missed on Tod's previous tour), scramble over the summit and ride down the west facing slopes - touted to be very amenable to skiing. We'd complete the loop by riding and hiking out Whitepine and Whitehorse Creek Trails.

That was the original plan, but conditions on the second day of our three-day tour (the day we were to summit Big Chiwaukum) forced us to cut the loop short. Plagued with poor visibility, occasionally heavy snowfall and slow travel through deep, fresh powder, just making it to Cup Lake was an accomplishment. Foregoing the summit, we decided to play it safe and cross over the crest via Deadhorse Pass. We'd make camp in a large, flat basin about 500ft below the pass and complete the loop the following day. Thanks to the whiteout, we unknowingly missed the pass entirely and gained the windy crest just north northeast of Pt. 7534. In the rapidly waning daylight we then made a blind descent into unfamiliar terrain. We'd only know where we went wrong that next day after the weather cleared somewhat and we could reconcile terrain features with our topo maps.

We located the snow-covered trail the following morning (after a somewhat unpleasant descent through steep, snow-free forest) and hiked out the remaining three or four miles to the trailhead. We then skied (without skins) the last few miles of snow-covered road to where Tod had parked his truck near the Cascade Meadows Church Camp. Incidentally, from where he parked his truck, Tod biked the short stretch of Nason Creek Road (snowplowed to church camp), hwy 2 (downhill ~ 2 or 3 miles) and the last mile or so up to the Lake Ethel trailhead on the first day of our trip. Doing so enabled us to avoid any elaborate car-drop/shuttle arrangements, though we still had to drive back up to the Lake Ethel trailhead and retrieve Tod's bike.

Reflecting on our trip on the drive back to Seattle, Tod and I both agreed that we felt a bit cheated not having summited Big Chiwaukum, and more importantly, not having ridden down its dreamy west slopes. For that reason, there's already been talk of returning in the Spring…providing we get any snow this winter. (Photos: SV)


Click thumbnails below to enlarge...
Tod skins across a road crossing the snow-covered trail leading to Lake Ethel. We made our first camp near the right-edge of the snowy ridgeline visible at center left.

A grand view of the Da Kobed Range as seen just above Lake Ethel.

One last look back at the fog filled Mason and Wenatchee River valleys from near our camp. We would not see the sun for the remainder of our trip.

Clouds blew in early that evening creating whiteout conditions the following morning.

The northern half of the Chiwaukum Crest is broad and gentle, almost plateau-like. We made good time on this portion of our tour, depite the wind and limited visibility. Travel became a bit more difficult as we approached the junction of Mc Cue Ridge with the main Chiwaukum crest. From a saddle at the junction point, we had to boot up a steep and somewhat exposed snow ridge to a high point west of Mc Cue Ridge (cornices could be problematic w/ more snow or later in season). We then traversed a sparsely snow-covered, loose rock slope to once again gain the broad and gentle crest.

We skied (w/ skins on) this easy slope, trying to stay as near the narrowing crest as possible. Soon it became apparent that we could no longer follow on-top of the crest (cliffs ahead - beyond next saddle) and would have convert our splits to board-mode and descend into a small bowl east of the crest. Trying to minimize our elevation loss, we made a high, descending traverse of the bowl and simply booted the short slope back up the opposite side.

From a minor rib just south of the aformentioned bowl, we made a long, enjoyable swouthward descent towards the creek draining Cup Lake (just northest of Larch Lake). There were cliff bands on the final portion of this descent that had to be negotiated with care (center right of photo). I think we followed the one and only snow-filled gully to the basin below...thanks to Tod's excellent map reading skills (probably easier with more snow).

With a long, somewhat stressful (for me) descent now behind us, we stopped for a quick lunch. Mentally, and practically, we had now reached the point of no return.

With progressively diminishing visibility, we skinned up along the creek draining Cup Lake. I was beginning to have doubts that we'd make the summit of Big Chiwaukum on this day.

Touring along the western shore of Larch Lake where, lo and behold, we encountered groves of some of the largest larch trees either of us have ever seen. This would almost certainly be a beautiful place to visit in the fall.

We skinned up above Larch Lake towards Cup Lake and into the clouds. Visibility was very poor and we briefly discussed making camp at the lake. By now it was obvious to the both of us that the summit of Big Chiwaukum was out of the question. With scarcely an hour of daylight left, it certainly seemed logical to just set up camp at the lake and complete the rest of the tour (via Whitehorse Pass rather than the summit) the following day. The rate of snowfall however was a bit unnerving to us, and not knowing how much would accumulate overnight, we felt it safer to ascend the potentially avalanche prone slopes below Deadhorse Pass sooner than later.

Our high-point and what we thought was Deadhorse Pass visible above Tod at left.

Booting up a final, steep and icy slope, we reached the crest with only minutes of daylight to spare. The wind was howling. I prepared my split for the descent with desperate efficiency and waited for Tod to join me. Something about this slope didn't seem right, but, we had to get out of the wind and down somewhere where we could set up the tent before it got dark. No time to dawdle.

Looking back up at Pt.7534 from camp on the second night of the tour. We descended the left-most gully (or the one next to it) I think.

With three or four inches of fine powder snow over loose rocks, the descent wasn't easy at first. As we got lower, we could see trees and an open gully with deeper windswept snow leading to lightly timbered slopes below. Sheltered from the wind, the snow in the lower half of the gully and slopes below was exquisite and, for a moment, I was completely consumed by the ride...every other thought or worry was temporarily shut out. We finally stopped and set up camp at a flatish area next to a stream.

Tod, in a familiar pose.

The next morning, we toured over to a minor rib near camp to get a feel for where we might be. Tod's suspicions confirmed, we were one if not two basins off from where we had planned to camp after descending from Deadhorse Pass. Furthermore, steep cliffs barred access into the adjoining basin (south) and so we had no other option but to descend following the creek this side of the rib.

Nice rides down open powder slopes eventually gave way to steep forest with only a dusting of fresh over frozen forest floor. Down-climbing this section of forest demanded my full attention and I was happy once we reached more open forest below .

Tod poses next to a wilderness boundary marker from a forgotten era (40's,50's?).

Weren't it for Tod's keen eye, I would have tromped right over the trail (faintly visible underneath the shallow snow cover) and mindlessly continued down towards Whitepine Creek. Phew! We had hoped to be able to simply ride down the trail, but with shallow snow cover in the trees, we ended up having to hike out instead. We nevertheless found ourselves at the trailhead a few short hours later.

We were pleased to see that about six inches of new snow had accumulated on the roof of Tod's truck. Definitely a good omen for the coming winter, no? Actually not, but, we weren't exactly thinking that at the moment as New Years was now practically upon us!

Topo of our route. Intended route in blue with camp locations and actual route in red.