&nbsp Black Peak - Northeast Ridge South Route, Sept. 2002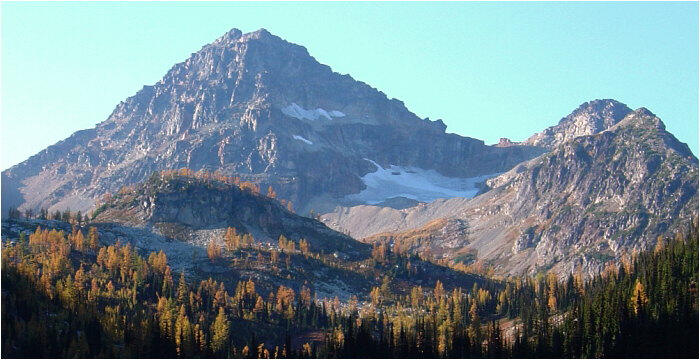 Black Peak as seen from Heather Pass with South Route on left skyline (
Northeast Ridge
at right).
A prominent peak with a classic route of low-to-moderate technical difficulty, Black Peak's Northeast Ridge peaked my curiosity. I imagined climbing an aesthetic knife edge ridge similar to the
West Ridge of Forbidden Peak
. Rising just south of HWY 20 and due west of Cascade Pass, the summit views would also be unlike any I had seen before in the Cascades up until this trip.
With that in mind, together with Scott and Ryan I drove over to the Lone Fir Campground (north of WA Pass) on a Sunday afternoon with high hopes for a NE Ridge climb the following day. Though skies were overcast that evening, the forecast was calling for sunny skies by Monday afternoon at the latest. We claimed our camp spot, set up our tent and drove on into the town of Mazama to spend what was left of the day climbing some sport routes at the local crag (Fun Rock). (Photos: SH, SV)
Click thumbnails below to enlarge...
| | |
| --- | --- |
| | We awoke around 4:30 that morning to overcast skies and made the short drive over to the Rainy Pass trailhead. We hiked up along the Lake Ann Trail towards Heather Pass. A path bears right and downwards towards rock slopes and Lewis Lake in the distance. We continued on the trail bypassing the lake on the south (right) side aiming for a moraine slope above the lake. The trail led us up through larch meadows before reaching Wing Lake. Looking back across the valley from the lake, we could see the clouds slowly lifting from the nearby peaks. Peak at back left is Tower Mountain. |
| | View of Black Peak from Wing Lake. |
| | From Wing Lake, we ascended the moraine south (right) towards a small glacier. We continued climbing the glacier, making an ascending traverse towards a low point in the ridge between Black Peak and Point 8395. |
| | We left the snow and scrambled up towards the ridge crest. Once on the crest we made a disappointing discovery. Fresh snow from the previous system that had passed through the area had been deposited on the north facing slopes of Black Peak. |
| | I moved in to get a closer look. I found fresh snow and ice. As the Northeast Ridge route primarily follows the now snow dusted ridge-top and also traverses on the North Face for a pitch or two, we knew we were done for. |
| | We now had no choice but to descend back down almost to Wing Lake and take the "punter" route (South Route) to the summit. We angled around the East Face of Black Peak, cached our now unnecessary rock gear and made our way up talus to a saddle in the South Ridge. |
| | Looking up from the saddle. The south slope is nothing but a jumble of loose 2nd and 3rd class broken rock. We took the right-most gully and traversed left over to adjacent gullies as the going got steeper and more difficult. We eventually reached a bench and traversed over towards the East Face (right) on ledges following the over-abundant cairns marking the route. |
| | With a short 4th/low 5th class move, one gained the true summit. A long piece of webbing with knots in it was found at this vertical step and was evidently put there to help those who don't climb rock make it up to the summit. With the route being as simple as it is, I think aiding off of a runner to get up/down the one portion of the route that provides any sort of excitement is silly. These things should be removed. |
| | Looking back over the Northeast Ridge from the summit. I was suprised to find fresh snow. |
| | The clouds that had been clinging to the summit finally gave way, revealing spectacular views to the east. |
| | Mount Goode and Storm King Mountain dominate the view to the west. |