&nbsp Cutthroat Peak - South(east) Buttress, September 2003 (by Paul Klenke)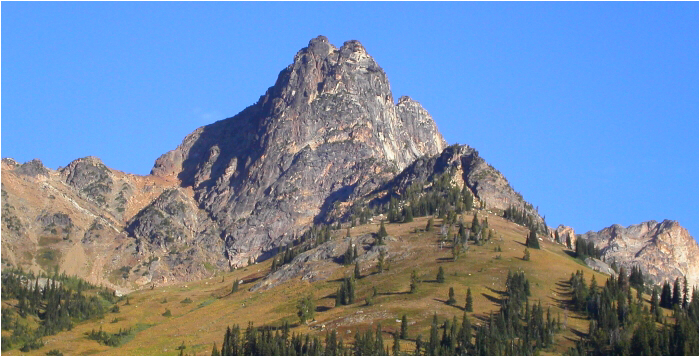 South(east) Buttress of Cutthroat Peak as seen from Hwy 20. West Ridge on left skyline.

Bent on getting his throat cut one last time in the Washington Pass region before summer came to an end, Sergio proposed that we go climb Cutthroat Peak. Though not necessarily a routebagger myself, I have always been interested in doing a trip up the South Buttress (sometimes called the Southeast Buttress) of Cutthroat purely because of its choice reviews and tasty views. What also factored into my decision to go was the additional promise of seeing a rock tower and the not-so-nearby Hoodoo Peak, Star Peak, and Oval Peak; which, thankfully, I did not hear Tom Sjolseth make frequent reference to last summer.

Sergio and I estimated it would take somewhere in the neighborhood of three hours to drive from Seattle to Washington Pass. We did not leave Seattle too terribly early (I believe it was something like 5:00AM). At any rate, with the post-climb beers pre-purchased, we headed to the pass. I drove. Yes, I drove. The heater has been fixed, but apparently, according to Sergio, my driving skills are now out of alignment.

When we arrived at the designated pullout (wide gravel shoulder on SR-20) there was a twosome readying to make their way to the peak. I asked them what their destination was. They said the South Buttress of Cutthroat-the same as us. This being a rock climb, I figured it was good to have others on the route with us. The other twosome (their names being Chris and Patsy) decided to bushwhack down to the creek. Apparently, they missed the obvious cairned entrance into the woods just down the embankment. Sergio and I found the cairns and quickly got to the creek, wherein we stashed our six pack to keep íem nicely chilled.

It was a hot morning so we sweated all the way up to the upper basin in our trail running Salomons. The trail was steep and dusty in places but better than no trail at all. We arrived at the upper basin just behind Chris and Patsy (C&P). They tried to hide from us behind a big boulder but we could hear their clatter. While I took care of ďother business,Ē Sergio and Chris attempted to decipher which of the two gullies above was the proper one to take to gain the base of the buttress. (Photos: PK, SV)


Click thumbnails below to enlarge...
C&P opted for the right (south) gully while Sergio and I took the left (north) one. Once we two twosomes got into our respective gullies we could still hear each other talking but could not see each other. Sergio and I scrambled class 3 with easy class-4 steps in our gully before it widened into an amphitheater. Two notches appeared above. The right one was deep and looked to require a short pitch to climb out of. The left one was less prominent but would require rock work to get to. Sergio and I continued up to the left notch.

The terrain got steeper and steeper meaning we had to be more assiduous with each rising step. Neither of us had donned our helmets or any other gear. Eventually, when Sergio got to a sketchy slab, I insisted we back off before we got ourselves too deep into our own mire. We were able to don our gear in a bathtub-sized alcove in the rock wall on the left. Sergio took the lead to the notch (low 5th class) for about 50 feet. As the second, I would wind up arriving at Sergioís top belay, which used a prominent rap anchor, just as Chris arrived there. He and Patsy had had to rappel into the aforementioned rightward notch then do a short, easy pitch up to the second notch.

From this belay station, I then took the lead for a lengthy and mostly boring simulclimb on alternately sandy and blocky terrain. C&P followed up behind Sergio. Chris was doing all the leading as credit for AMGA certification, but by no means was Patsy incapable. She was probably a better rock climber than the rest of us. I worked up past various rap anchors until I came upon a short wall with a steep slab at its base. I mounted the slab on the left then traversed it rightward about 30 feet with off-balance holds (underclings, finger pinches, and foot smears). I was basically trying to find the easiest way up the wall. As it turned out, climbing up the wall was easier than the slab traverse. At the top of the wall, I decided to stop and belay Sergio up because rope drag had begun to hamper forward progress. He made quick work of everything but the slab traverse. Apparently my longer reach made the traverse easier for me.

From the belay above the wall Sergio then took the lead as Chris arrived upon the scene. He had taken a different route up the wall and made it look easy. With Patsy and I engaging each other in small talk at an otherwise uninspiring belay, Sergio and Chris disappeared up and around the corner. Our ropes paralleled each other but we would never get in each otherís way throughout the climb, which was nice. Somewhere during the pitch, Chris overtook Sergio, for, when I got up to where Sergio was and we continued on through a little bit of tree bushwhacking, Chris was found to already be 20 feet up an ugly off-width crack with Patsy belaying. Chris complained about the width of the crack, the slick lichen on the rocks, and the thermal truncheon beating on him from above. Indeed, it was hot out. And the many forest fires in the area seemed to intensify the heat. All this didnít inspire Sergio any, as it was still his lead (by my generous offer, perhaps?).

I suggested Sergio take a look down to the left as it looked like there was a gully over yonder we could take to bypass the off-width. Sergio crashed through some trees to get over there and found the gully to be quite doable. I soon joined him at the edge of the gully and set a nice anchor on a huge tree. This gully is visible from the upper basin. It can be seen just below the notch between the two apical towers that loom over the buttress.

The gully was all slabby rock (very little loose debris) and Sergio made quick work of it. It was scarcely class 5 until the very end. In no time Sergio called down to say I was on belay.

I climbed up. This particular pitch ended at a nice little stemming move to gain a belay platform. Meanwhile, Chris had bailed on the heinous off-width and was proceeding to climb up the gully too.

Now, here is the crux of the climb (for us anyway) and itís my turn to lead. Oh joy. The crux was a blocky overhang with almost nothing for feet and not much more for hands. I took the rack and scrambled up a rock pedestal to the base of the overhang and tried to unravel the conundrum before me. I stepped high up on the pedestal once or twice in a vain effort to come up with a procedure. Nope, I was not that capable. Cunctations, cunctations. What to do? Come on Paul; donít be a jackleg!

Well, my only modus vivendi appeared to be an aid move. I set a cam in the crack above the overhang and attached the right-length runner to it in order to create an ad hoc foothold. I tried the left foot first in the runner but this wasnít going to work, for when I stepped up into it, my foot swung farther underneath the overhang, thus leaving me even more off balance. I then tried the right foot in the runner. This was better because I was then able to use a small nubbin on the left block for my left foot. I hoisted my body up the blocks until I was head-high with the tops of them (they were flat on top but offered no finger holds, only frictional holds and loose pebbles). With my right foot initially still in the runner, I swung it out to sort of smear the right block. Without this foot in the runner I probably would not have been able to keep the foot on the side of the block. So there I am, trying to find a suitable handhold or two or half or anything, not paying attention to my right foot, when I happen to look down for a second and see that my right foot has come out of the runner. Oh shit!

If I fall now, Iím going down to the pedestal and possibly twisting or breaking my ankle(s) (In hindsight, I should have clipped the rope through the aid piece at the cam to decrease the fall distance.) As I said, ďOh shit!Ē If I fall and hurt myself that means Sergio will have all six beers to himself. Canít have that happen. When youíre in a tough spot, sometimes scratching and clawing does wonders. With that modus operandi, I quickly found myself atop the blocks panting furiously-less goat and more beached whale probably. Iíd rate that move 5.9 free or 5.7 A1.

Views over Washington Pass from the "crux" pitch belay.

I took pity on Sergio and set another cam above the blocks and dangled a long sling that he could yard on to get up past the difficulties. Once above the difficulties, I easily climbed up to a sketchy rap station and decided to use this and a nearby tree for an anchor to bring Sergio up. Meanwhile, C&P patiently awaited their turns on the crux. After what Chris had been doing in the off-width, Iím sure he would find this particular pitch a piece of pie. I periodically knocked pebbles down on them to remind them I was a gumby compared to them.

Sergio came up the crux making full use of the dangled sling. He gave me very little time to dream of women Iíll never meet. He wondered just how I managed to get up the crux without the dangled sling. To this day I donít really know. The particulars of scratching and clawing are not something one typically commits to memory.

It was then Sergioís turn on point. C&P came up the crux quite uneventfully (show offs!). Sergio and I shared my homemade sandwich. It was the first food since the basin, which we had left maybe three hours prior. From the looks of the terrain above, it appeared as if Sergio would get to do the famous Tarzan jump. There was a gully/chimney at center but Sergio chose the rocky bulge on the right. He made quick work of the stair-stepped bulge (low 5th class) but didnít like what he saw for the Tarzan jump, which is essentially the method one uses to get off the rock bulge where it goes vertical. One has to jump down to a sandy hollow at the top of the gully/chimney. Itís not a long leap but not necessarily easily negotiated on lead. From my belay it looked easy enough and I wondered aloud what was taking Sergio so long. He later said he couldnít get his feet right to prepare for the jump. Meanwhile, Chris had begun leading up the chimney-the harder route.

Finally, with adequate slack paid to him, Sergio jumped down to the hollow but didnít orate a rendition of Johnny Weismullerís famous Tarzan vocal. I resolved to make the vocalization even if Sergio was too cool for that. My problem when I got to the Tarzan leap was not the leap itself but the landing, for I had C&Pís taut rope to land astraddle. With my best ďah-ahuu-ahuu-ahuu-ahĒ I made a perfect landing on either side of the rope. No twanging the guitar string here, folks.

The next pitch was mine to lead. We moved our belay to the edge of a sharp fault across the top of the mountain. C&P promptly joined us. A fortuitously placed heap of boulders provided a platform in the fault notch with which to step down onto. A short balance traverse up and left got me out of the notch. There is another notch about 40 feet further on. This one requires a class-4 downclimb for a few feet. Getting out of this notch was easier than the first notch. At about this time our 60m rope had paid itself out and Sergio began following me. Chris was right behind me.

The next obstacle was a short 9-ft fist crack with a small stone choked in it that had been placed there by humans. I slung the chockstone and considered using this runner for an aid move but thought that would be cheating. With little difficulty and completely free of any aid, I heaved myself up the crack and onto the broad, flat slab that is just below and south of the summit blocks.

The first notable sight was a fire on the other side of nearby Tower Mountain (this was the Needle Creek Fire).

The four of us pretty much made the summit at the same time. Photos were taken and risibilities were shared.

C&P set off to descend the way they had came (they had left their packs at the base of the climb) while Sergio and I opted for the West Ridge descent. Sergio (like me) likes loop trips, and, since I had previously done the West Ridge Route in June 1999, I knew the way. We did one rappel off the north side of the summit block to a notch whereupon the North Face ledge comes to an end.

One must use this ledge for the West Ridge Route. The West Ridge proper is located at the other (west) end of the ledge. With Sergio out in front, we did a running belay across the ledge (he setting one piece for protection at about halfway at a fallen merlon).

We continued past the small exposed horns on the upper east end of the ridge, down the crest, then off the crest on sandy ledges until Sergio located the first rap station. The first rap continues more or less down the ridge but slightly to its south side to a big ledge where the next rap station is located. Two very large pitons form this next rap anchor. The next rappel goes down a bumpy slab to its western dihedral corner (the rap anchor at this corner is easy to spot from above). From the corner, one more rappel gets you back down to scree slopes.

Back on what could reasonably be assumed to be safe ground, we finally eased ourselves of our rock shoe burdens and slipped our aching toes back into our approach shoes. But the exasperation was just about to begin. We had heard of the West Ridge descent being a tedious one on scree and talus. Well, the stories are true. Even so, I do believe the West Ridge is a quicker descent route than the South Buttress. Plus, itís a loop trip. According to C&P, they had to do something like nine or ten raps to descend via the South Buttress. Sergio and I only had to do four raps.

In many places on the descent from the West Ridge the scree and talus are non-existent. But this is not an improvement. Instead youíve got to deal with that compact dirt that is next to impossible to scarify a foothold into. Yep, itís easy to find yourself sliding on your side or on your butt down that stuff. After the scree and dirt section, talus takes over. Down and down and down and down. Will the grassy flat of the upper basin ever be ours to enjoy again? It seemed to take forever to get to it.

Anyway, as Iím descending the talus I hear a commotion above me. If ever an example of anthropopsychism could be cited it is here. This mountain really did try to cut my throat: a basketball-sized boulder and a few satellite lesser rocks literally popped out of the talus and began bounding down toward me. I froze for a second to ascertain which way I should run to avoid getting bowled over. Would I have to momentarily play Buster Keatonís character Jimmie Shannon in the great silent film Seven Chances (1925)? Thankfully it was only two or three boulders, not the endless tumbling procession seen in the movie. I decided running to my right toward Sergio, who had a great view of the whole incident, was my best option. I ran across the talus about 40 feet. I managed to get out of the way in time but wound up slipping on my side and cutting my left leg. Mountain, you failed! You tried to cut my throat but only managed to cut my leg!

Needless to say, we got the heck off the talus declivity ASAP-me hirpling my way down. We arrived at the basin about an hour ahead of C&P. We dumped the many pebbles out of our shoes and continued on our way back to the car. As we descended to about 6,000 ft we entered the forest fire smoke that had begun settling in the valley as the heat of the sun died away. Out toward the head of Bridge Creek a white miasma filled the valley. This was what we were descending through. By the time we got to the car at about dark I was getting a little bit of a headache. Ah, nothing a few beers wonít remedy.

As I drove home while Sergio gripped tight the ďoh shitĒ bar, I wondered why I had put my life on the line on more than one occasion. I certainly hadnít gone there to relive old time movie scenes. I think Iíve had enough of Cutthroat Peak now. Iíve only one throat to cut and Iíd like to keep it uncut, thank you very much. Cut!