&nbsp Dorado Needle - Southwest Buttress Northwest Ridge, July 2007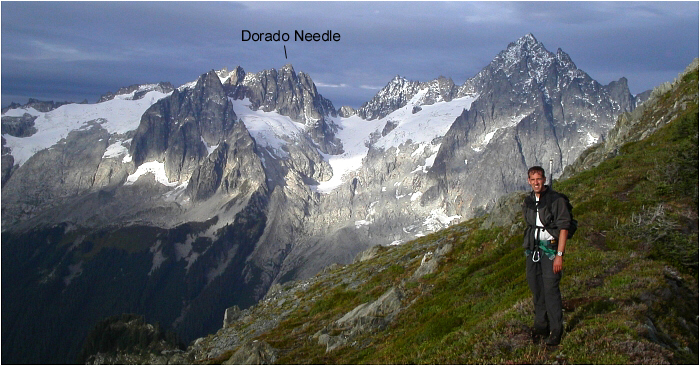 Dorado Needle and Eldorado Peak (left-to-right in background) with Early Morning Spire in mid-ground left. Photo taken near Sibley Pass after having climbed
The Triad
.
Paul and I tried for the Southwest Buttress of Dorado Needle on July 7, but got suckered up the wrong gully and were stymied by unexpectedly difficult (desperate?) climbing with sketchy protection. The good fortune one might expect for 7/7/2007 wasn't ours to enjoy. We endured steep, hard snow, moats and wet, slabby rock in the aforementioned gully before we ultimately pulled the plug and retreated with tails between our legs. Three raps off of gear and a horn saw us safely back down to friendlier terrain beneath Dorado Needle's Southwest Face. While rapping, Paul and I saw another gully a bit left of the one we had just bailed from, but noted that it too seemed unpleasant. In hindsight we should have probably investigated further for this was apparently the correct start gully for the Southwest Buttress route. I have noted the correct gully in relation to the one we attempted below in this report.
In the end, we still managed to bag the summit via the standard Northwest Ridge route. Our success, however was bittersweet considering that we'd somehow botched our original plan. No matter though, t'was a fun weekend in sublime surroundings nonetheless. Paul sacked-out early that second night at camp while I sat around and watched the sun set on familiar peaks.
Mesahchie
,
Logan
,
Forbidden
(with
Goode
peeking),
Formidable
and the peaks of the Ptarmigan Traverse farther in the distance. Then there's
Johannesburg
- as Jim Nelson puts it, "...a taunt, a dare, an invitation." Damn you Johannesburg! Overhead, clouds continued their advance eastward while the summit of
Eldorado Peak
was already engulfed in fog. Good! At least that way I won't feel compelled to run up and tag the summit the next morning. I took one final swig of whiskey and called it a night myself. Zzz... (Photos: PK, SV)
Click thumbnails below to enlarge...
Impossible to ignore Johannesburg Mountain taunted me from across the valley.

Paul slogs up Eldorado Glacier.

We encountered continuous snow shortly beyond the boulder field and stopped at the Eldorado-Rouch divide for a short rest and a bite to eat. Descending the snow-free gully from the ridge, we continued up snow to gain the toe of Eldorado Glacier and above.

I've got countless shots of this very same vista, but I'll never tire of it - Forbidden Peak with Moraine Lake below, as seen from our Eldorado East Ridge camp.

We found a suitable snow-free camp spot that was sheltered from the wind a bit above where the more obvious East Ridge bivy sites are.

Sunrise paints the snow and peaks a vibrant red - we woke up around 4:30 and were on the move shortly after 5am.

The sun rises as Paul traverses the Inspiration Glacier with Inspiration-McAllister Col visible just right of center.

Close-up of 7,600-ft Eldorado-Dorado Needle Col with Skagit Valley visible in distance.

We made a descending, leftward traverse from the Inspiration-McAllister Col aiming for the right-side of the Eldorado-Dorado Needle Col. We stopped here for a rest and blue bag before descending the other-side of the col.

Following a loose scree ramp at right, we were able to reach a snow finger and then traverse onto the unnamed glacier below. There was a large moat/wind scoop just below this spot that would have been hard to climb back out of had we simply chosen to descend the gully.

Paralleling the prominent South-Southwest Buttress to our right, we descended the glacier for about 600-ft until able to traverse right and round a snowy bench to reach steep snow slopes beneath a large alcove (less snow later in season may require more elevation loss). We then climbed up hard and steepening snow into the alcove, aiming for a moat near the apex of the snow slope just beneath an obvious chimney. We assumed the correct gully to be the one trending left on the left-side of this chimney.

Paul near the moat from where we started our belayed climbing. A pitch brought up to the mouth of the gully indicated by the red X. Paul made it some distance above the cave visible near the bottom of the gully before eventually having me lower him back down. The blue arrow indicates what we believe is the correct gully (or it may be even further left).

We still had plenty of time to complete the standard Northwest Ridge route and so humped back up to the Eldorado-Dorado Needle Col and slogged to the notch that marks the start of the route. Continuous snow all to way to the ridge crest eliminated the short pitch of low-fifth rock typically encountered before reaching the notch proper.

Paul climbs the first pitch.

We finally reached the summit after two or three short pitches on reasonably sound rock. The climbing was fun, but entirely too short.

Easy climbing along the Northwest Ridge.

The much anticipated cheval section (immediately below me in photo) turned out being an exposed 15-foot finger traverse that is over with after no more than two or three hand-over-hand moves.

Summit panorama looking towards Eldorado and Tepeh Towers.

We searched briefly for the summit register, but none was to be found. We retraced our route down the ridge, making one short rappel back to the notch and another down steep snow below the notch (Paul was easily able to plunge-step down).

Looking back over McAllister Glacier towards Dorado Needle.

Once off the rock, we plodded back across the McAllister and Inspiration Glaciers, arriving in camp late that afternoon. As we'd originally planned on staying two nights anyway, Paul and I had dinner and retired to the tent shortly thereafter. Clouds were building later that evening and lenticulars could be seen hovering over Ragged Ridge.

Panorama of Northeast Face of Eldorado.

We awoke to overcast skies and occasional drizzle that next morning and so promptly packed up and made for the beer stashed near where we crossed the Cascade River. Without a doubt the Inspiration-McAllister-Klawatti Ice Cap area is hard to beat, but this is my 5th time up that damn Eldorado trail. Southwest Buttress or not, it'll be a LONG time before I go back!