&nbsp East Wilmans Spire - South Face, September 2003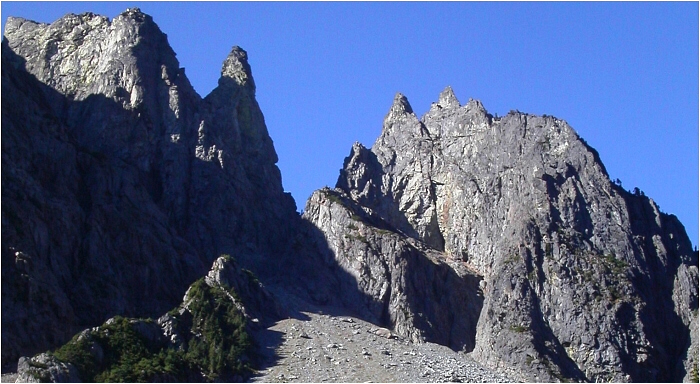 East Wilmans Spire (left of center) as seen from Glacier Basin.

If you're looking for an easy technical climb that can be completed in the short daylight of an autumn day, is within reasonable driving distance from Seattle, and offers up great views of the Mountain Loop area, look no further. By the way, East Wilmans Spire (EWS) is also a good climb to consider if you have to be back in Seattle by 7pm to attend your buddy's bachelor party. I sold Andy Ball on the idea (the climb, not the stripper party) who in turn invited James Cunnigham to also join us. James lives in Winthrop and was planning on visiting Andy in Seattle anyway. With a long drive ahead of him that Friday night, James suggested just meeting up with us at Barlow Pass the next morning. If he wasn't there when we arrived we were to just proceed without him.

Andy and I pulled up beside James' truck at Barlow Pass shortly before 8am. We didn't envy his sleepless night in the truck, and so cut him some slack while he took an eternity to pack and get ready. Finally, we hopped on our bikes and began the 4-mile ride to Monte Cristo. Either my pack was really heavy or I was just tired myself, but the hill climbs wasted me! We locked our bikes in town, next to several other bikes already secured to the bike rack. With bike shoes stashed in the bushes, we started hiking up towards Glacier Basin. This would be my third trip to Glacier Basin and yet the scenery continues to impress me. (Photos: AB, JC, SV)


Click thumbnails below to enlarge...
Presenting... Glacier Basin.

We encountered a party of three relaxing in the sunshine as we reached Glacier Basin. Andy and James apparently knew two of the guys from their high school days back on Bainbridge Island. We learned that there was also a party of two ahead of us (we could barely see them ascending the talus slope above us). Planning on climbing the South Face of EWS as well, the party of three seemed content just letting us get ahead of them. Bonus!

The scramble up the scree and talus slope that fans out below EWS is tedious and loose, and hints at what lies ahead. Most years, the gully that continues up to the notch below EWS is snow-filled, becoming steep an icy later in the season. How odd, we thought, it was for the party ahead of us to leave crampons and axes behind. A short scramble into the horribly loose gully confirmed that it was in fact mostly snow-free, with only a small finger of snow and fallen blocks of ice accumulated at a constriction.

The snow and ice was passable by odd an uncomfortable squeezing and stemming moves in the moat on the left then back right, around a final block of ice for one final pitch of wet, rotten, ball bearings-on slabs to the notch. All said, the gully is 3rd class, with a bit of 4th here and there. The moist and generally rotten rock demand one's full attention. Party induced rock-fall is definitely a consideration.

From the notch, we could look up and see the South Face of EWS before us. The party of two seemed to be traversing onto a ledge about 2/3rds of the way up the face from where we were standing. We snacked briefly in the sunshine and marveled at the surrounding scenery.

With the other party nearing the summit, we scrambled up the final scree and talus slope to another notch, separating EWS from the main summit of the Wilmans Peaks group.

We roped up, while trying to discern which way to go. A thin ledge, at about shoulder height, made for an interesting, if not very exposed proposition. I couldn't help but wondering if this was the 5.7 route variation that some accounts on CascadeClimbers.com (CC.com) had referred to as being the "only way" to the first belay.

I opted to climb easy rock on the crest directly upwards from the notch. A short down-climb in a gully (this is the 5.0 pitch cited in Beckey's CAG) led to a wide ramp and a comfortable belay spot.

From the belay, a short scramble around a corner leads to the ledge where we previously had seen the other party standing (Catbirdseat of CC.com fame and somebody else). The other party rapped down, as I continued around this corner (resist the temptation to set up a belay at the first obvious spot), making an ascending traverse on the 3rd-class ledge to another belay platform with bolts/pins for anchors.

Andy reaches for a hold.

Looking to the WNW.

Andy and James on the tiny summit area. Monte Cristo Peak and Kyes Peak in background (left to right).

Looking to the west.

Two rappels brought us safely back down to the ramp where we had set up the first belay. The other party of three we had met back in Glacier Basin was just wrapping up the first pitch (the third, least experienced member was actually sitting out the actual climb back at the upper notch). One more exhilarating, overhanging rappel brought us down to the talus slope just below the upper notch where we had roped up earlier.

We descended carefully back down to the lower notch. A double-rope rappel allowed us to bypass most of the unpleasantness in the gully, leaving only a short, but sketchy down-climb to reach the relative security of the ice blocks lodged at the constriction. Hiding behind a large block of ice, I waited for Andy, then James to descend the gully. At the bottom of the snow finger, I noticed a V-thread that the previous party had undoubtedly made and used to rappel the final wet step at the bottom of the gully. With some apprehension, I watched Andy rappel off the V-thread. I went next, followed by James. As I retrieved my stashed trekking poles, Andy, who was re-packing his gear, helplessly watched his helmet tumble away into a nearby drainage.

More scree surfing, and boulder hopping, brought us back down to Glacier Basin, and the trail, and hopefully, Andy's helmet lying somewhere. Eventually giving up hope on finding Andy's brain-bucket, we returned the way we came, reaching Monte Cristo around 5:45pm. A final 15 minutes of reckless, mostly downhill biking to Barlow Pass made for an exhilarating finish to the day. Sadly, the party we left behind suffered a much different fate than us; for it was in that same nasty gully below the notch that a boulder would come loose and shatter someone's leg. Like I said, be careful in that gully!