&nbsp Mount Fury - Southeast Glacier, August 2006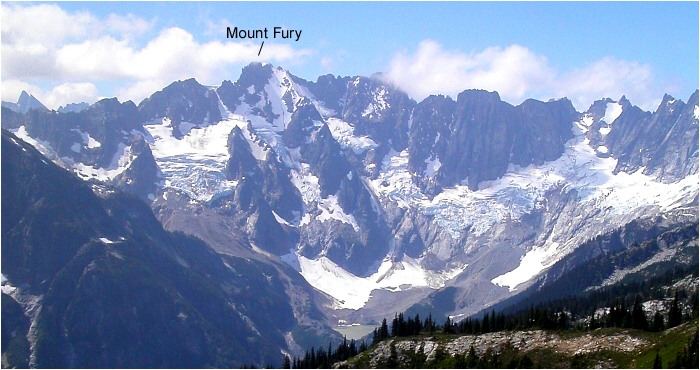 The magnificent Luna Creek Cirque as seen from
Wiley Ridge
. Mount Fury and its prominent Northeast Buttress visible just left of center.
This report describes both my failed July '06 attempt and subsequent August '06 success. Dates are indicated where report text doesn't correspond with thumbnail image.
I had some unfinished business in the Northern Pickets to attend to. As arranged, I rendezvoused with Paul, Peggy Goldman and Eric Johnson at Luna Camp the evening following their climb of Mount Prophet. The three would then join me for a full day of brush and sweat up to high camp at Luna Col and with me staying behind make a quick afternoon jaunt up Luna's Southwest Ridge. Peggy and Eric would then return the following day while Paul and I continued on to climb Mount Fury. We'd then return to Big Beaver landing on the final day, retrieve (and drink) the 6-pack I stashed in the lake and revel in our successes while waiting for the water taxi to arrive…or so we hoped.
And while Fury's SE Glacier route is not the most exciting line on the peak given its remoteness and distinction of being situated in what is arguably the most sublime group of peaks in the lower 48, any route would do for me. Considering that a 15-minute speedboat ride up Ross Lake, 10+ miles of good trail through old growth forest, a frigid ford of Big Beaver Creek and a character-building grunt up along Access Creek will only see you to a glorious high-camp at Luna Col, it's clear that the approach is not for the weak willed. The reward comes later – starting with a well positioned ridge scramble and relatively direct glacier climb with aesthetic snow aręte finish, this climb represents some of the best the Pickets have to offer.
Yes it's true that Eric Hoffman and I were thwarted by weather on an attempt at Fury last summer (report
here
). I did not take the defeat lightly and was determined to succeed my second time around. What are the odds of getting stuffed by weather two times in a row anyway? Hey, I wasn't about to burn another 4 days without something to show for my efforts. Right?
Continued
... (Photos: EH, PK, SV)
Click thumbnails below to enlarge...
Big Beaver log crossing during the failed July '06 attempt. Photo taken on return.

Southern Pickets from "Lunatic Peak", taken during the July '06 attempt.

Fording Big Beaver on the (successful) August '06 trip.

Fast-forward a month almost to the day – lo and behold, there I am once again hiking the Big Beaver Trail. Now together with Eric, the ford across Big Beaver and ascent to Luna Col was trivial…similar to our first attempt in August '05.

Mt. Fury from Luna Col.

We made camp with hours of daylight to spare this time. The skies were clear without a hint of a threat of cloud or rain. I didn't have to keep my fingers crossed either for I had done my penance. Resting on a smooth slab I drank deeply of the superb scenery and warming afternoon sun. Downing the last of the whiskey a day early I toasted Eric, Fury and the weather gods. Tomorrow was going to be a good day!

A glorious sunset over Challenger Glacier with the Border Peaks at right.

Easy ridge walking.

Leaving camp around 7AM, we quickly gained the obvious

ledge

visible from camp. The ledge is wide and far less intimidating that it appears. Continuing along the broad, heathery ridge top we encountered an impasse beyond the next rise. Looking left (south) we located a ramp and gully that leads down to snow slopes, now on the right (north) side of the crest. We were able to avoid the still icy snow by staying in the moat and soon found ourselves standing at a saddle and looking up at the next rise.

The portion of ridge above this saddle involves a short 5th-class rock step (seen in photo).

Southern Pickets from the ridge.

Traversing the snow and talus basin.

Continuing along the crest we reached a notch from which we made a descending traverse (left of the crest) to a talus and snow basin. Traversing this basin we soon gained ledge at about 6600ft.

We inched along the loose and somewhat exposed ledge until reaching steep scree slopes above the

SE Glacier snout

. A short traverse of this slope soon allowed us to descend to the SE Glacier proper.

Climbing the SE Glacier.

We roped-up and traversed onto the glacier (hanging ice above - caution is advised). Turning right, we proceeded up the glacier towards a steeper section. A short pitch of 35-40 degree snow led to lower-angled slopes beneath the next glacier step.

Traversing the glacier bench towards the bergschrund.

Continuing left across a large snow bench below the cliff band on the SE face we soon encountered a large 'schrund. We crossed the 'schrund on a snow bridge, though staying low and traversing farther left avoids it entirely.

Steep snow below the aręte.

A short scree slope followed by a long pitch of 35-40 degree snow leads to the final, short snow aręte. A quick stroll along the aręte then led to the summit (~5 hours from camp).

Considering the blood, sweat and tears involved in finally getting to the top of Fury, we were in no particular hurry to leave this amazing vantage point. I was captivated by the incredible view down upper-Goodell Creek Valley (seen here). Flipping though the summit register was like a who's-who of Cascade mountaineering with all the usual "Cascade-a-holics" represented.

Looking north towards Mount Challenger and beyond.

View to Northeast towards Redoubt - Spickard Group

Close-up of Degenhardt Glacier.

Jack Mountain erupts! A plume from the Tripod Complex Fire still in its early stage. Click

here

for another view.

Pruned feet at Big Beaver landing following the failed July '06 attempt (I waded around for too long in a futile attempt at locating our beer stash).

It took us about four hours to return to camp from the summit. After another night at the col, we hiked for about seven hours to eventually reach the Big Beaver boat landing (much faster than expected). Fortunately this time the beer was there where I stashed it! We took a refreshing dip in the lake and lounged around in the sun waiting for the water taxi to arrive one last time. Rest assured it'll be a LONG time before we set foot on the Big Beaver Trail again, eh Eric?