&nbsp Mount Terror - West Ridge, July 2006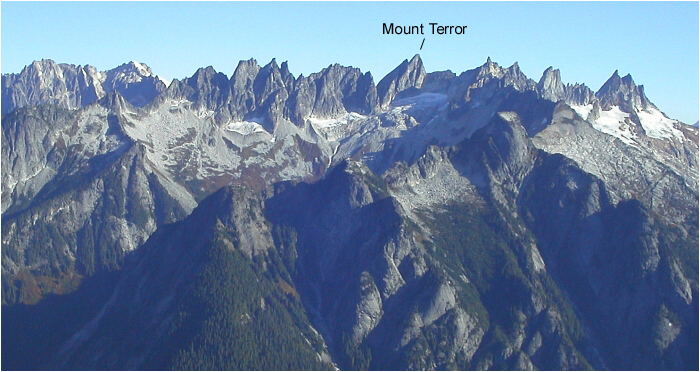 The Southern Pickets as seen from Mount Triumph's
Northeast Ridge
. Mount Terror is the prominent double-horned pyramidal summit visible just right of center with West Ridge on left skyline.

For those of us reluctant to commit to Terror's classic 2500-ft North Buttress, a route considered by many to be much more difficult than "class 4 with some mid-fifth-class rock" (per Jim Nelson in his Selected Climbs book), there is the "simplistic" West Ridge. Guarded by the most heinous of gullies, the West Ridge entails mostly 3rd and 4th-class scrambling on occasionally loose rock typical of the range. While the climbing itself is easy and the aesthetics are somewhat diminished thanks to the aforementioned gully, the excellent position and setting make this a worthwhile (and attainable) outing, reaching the summit of the tallest peak in the Southern Pickets.

Hoping to avoid most of the "Extreme Heat" warning that NOAA was forecasting for the following day, Eric and I planned on a Friday night trailhead bivy and early morning start. Arriving at the ranger station in Marblemount, we were surprised to find that two parties heading into the Southern Pickets had already signed in. Both were heading for the West Ridge of Mount Terror. There was also another party signing in when we arrived - they were heading for Inspiration Peak and so would also be leaving from the Goodell Creek trailhead.

While I was backing Eric into a spot (near the end of Goodell Creek Road), a particularly aggressive (and intoxicated) group of three approached. Acting on behalf of the current occupants of the nearby group camp, they made it abundantly clear to us that we were not welcome. Rather than risk an escalation of tensions to the point of confrontation, Eric and I felt it wise to let the assholes have their way and so we reluctantly retreated, parking several hundred yards up the road at the alternate Goodell Creek trailhead/pullout. Unfortunately, the grief didn't end there…

It turns out that we were the second of four known parties that the group camp party had chased-off that evening. Presumably in response to a heated argument between the group campers and the fourth and final party to attempt a trailhead bivy, a 911 call was placed. Eric, I and two other climbers we had just met (the third party to be evicted by the group campers) were preparing to go to sleep when a convoy of gun-toting park rangers arrived. Now virtually at gunpoint, we were ordered to lie face-down in the dirt while the rangers went about emptying our beer cans and checking our IDs. Ranger Yetter "investigated" and eventually issued all four of us citations for "Disorderly Conduct (Offensive)". Apparently we were guilty by location, for he made no effort to locate and obtain testimony from the two other parties that were run-off that evening. When asked on what basis/evidence we were being cited, Yetter simply told me to save it for the judge. Curiously, he did add that we could "sleep here on me tonight", obviously referring to the pseudo-illegal trailhead bivy. Hey, what a guy! (Photos: EH, SV with portions of report text plagiarized from Eric's report)


Click thumbnails below to enlarge...
Crossing Terror Creek.

It took some time to calm the nerves and fall asleep that night, and so we awoke late and lazily departed camp around 7:30am - so much for our early start. Arriving at the camp/fire pit and the end of the old, overgrown roadway in about an hour-and-a-half, we continued along a worn path, making a rising traverse then paralleling Terror Creek to c.2100 feet where a couple enormous logs can be used to get across.

Hiking up "Stump Hollow" with lower Goodell Creek Valley below.

After a short break at Terror Creek (last water until c. 5600') we located a faint path heading up The Barrier. We were able to follow this ridiculously steep path to the crest of The Barrier (c.3400') with only minor route-finding difficulties (look for flagging). On the crest of The Barrier we were largely able to follow a path, although it too was lost on occasion. The path seems to stay right (east) of the broad crest.

At c.5600 feet things began to open up as we entered "Stump Hollow," the gentle basin between The Barrier and The Stump (Chopping Block). From there, we traversed the basin to a flat section of ridge (bivy sites here) extending from The Stump's Northeast Ridge.

First view of Crescent Creek Basin from camp. Mount Terror visible just right of center with The Blob just left of the obvious gully (the same gully we'd be ascending the next morning).

It took 6.5 sweltering hours to reach camp from the trailhead, after which Eric and I proceeded to engage in some serious power lounging. The Stump with its Northeast Ridge (at center) was merely a stone's throw away - I'm still unsure as to why we didn't bother with a casual afternoon climb of the ridge.

View down the lush and seemingly impassable Crescent Creek Valley with Mount Blum and Mount Baker in background, as seen from a highpoint near camp.

The sun went down and treated us to a spectacular sunset. Mount Shuksan visible at left.

Time + megapixels = creative photography: deep-orange evening light and sun cups.

Up close and personal with the dreaded gully.

We departed camp at about 6:45AM the next morning and descended snow and talus into Crescent Creek Basin. Once into the basin, we began a long traverse on snow, talus and slabs to the base of the notoriously shitty gully between Mount Terror and The Rake (aka The Blob). The 400-foot gully appeared to be mostly snow filled, but the snow was noticeably undercut and so we decided to instead follow the moat on the left side.

Eric delicately picks his way up the gully.

About a third of the way up the gully, we squeezed through a small tunnel in the moat then went left of an island of rock that splits the gully for about 100 vertical feet. The left side is apparently "more solid" and features a 4th-class step and interesting ledge traverse. The final 100 feet of gully was truly a piece of work and found us desperately scratching for anything that would give purchase.

Eric leads the second pitch.

Finally at the notch between Mount Terror and The Blob, we located what appeared to be the most feasible feature from which to climb up out of the notch - an off-width crack just off to the left. While I gained the 5-foot deep moat with all of the grace of a drunken cowboy falling off of his horse, Eric racked-up and prepared to lead the pitch. We found the crack to be a bit more difficult than it appeared (low 5th, awkward layback). Once above the crack, Eric turned right up a short gully to a rappel station that he used for a belay anchor (30m from moat). The following pitch involved climbing a short dihedral, which led past another rappel anchor to easier terrain immediately above.

Easy talus was followed up towards the top of the false summit, which we skirted on the right via a class 3/4 traverse to a notch c.200 feet below the true summit (as seen in photo).

Yours truly follows the final steeper section of rock. A short simul-climb on exposed and occasionally loose 3rd and 4th-class rock saw us to Terror's summit.

Summit views - looking towards the upper-Degenhart Glacier, Inspiration Peak and the McMillan Spires (right-to-left).

As expected, the views were nothing short of outstanding! A party had just reached the summit of Inspiration as we reached the top of Terror (about 5 hours from camp). Click

here

for a close-up of the party on Inspiration's summit.

View down a brush-choked McMillan Creek Valley with Mount Prophet at mid-ground right and Hozomeen Mountain in background. "Lunatic Peak" is visible in front and a bit left of Mt. Prophet - Paul and I tagged this bump as a consolation prize after having been weathered-off on an attempt on Fury earlier in July (my second attempt...arrrgh!).

Summit panorama - looking north.

Summit panorama - looking south.

Descending the gully.

After spending about 45 minutes on the summit, we started back down. With a running belay to reach the notch, we untied and scrambled down the ridge, stopping at the aforementioned rappel anchor above the dihedral. We made two rappels to reach the top of the gully and two in the gully with some "fun" down climbing thrown in there for good measure (50m rope is sufficient). We staggered in to camp about 9 hours after having departed that morning and proceeded to while away another afternoon lounging in the sun.

Afternoon thunderclouds loom over Ragged Ridge.

Expecting the descent to take longer, we managed to reach the trailhead in about 4 hours that next morning. We were at Good Food before noon where we were served a meal despite our typically "disorderly" post-climbing appearance. We stopped by the ranger station after lunch to discuss our "disorderly conduct" citation with lead ranger Kelly Bush. Fortunately, after further correspondence with Kelly in the weeks following the incident, justice prevailed and the charges were eventually dropped.

Kelly, however, pointed out that trailhead bivying is illegal in the National Park – especially at the increasingly popular Goodell Creek trailhead. A legal and less confrontational alternative would be to camp across the street at the Goodell Creek Campground instead - be prepared to pay a fee or possibly face the prospect that all sites are taken. If all else fails, a stealthy bivy at the nearby gravel pit is unlikely to generate too much strife. It is obviously not the Park Service's priority to police all trailheads at 11 o'clock at night, so exercise discretion when and where to call it a night. Sweet dreams!