&nbsp The Tooth - Northeast Slab, February 2006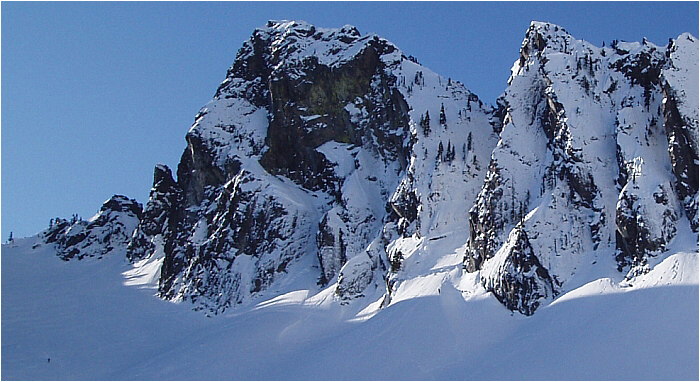 The Tooth as seen from Great Scott Bowl with Northeast Slab visible at center.

Bala Krishnamoorthy, Tom Hemm and I climbed the Northeast Slab of The Tooth on crisp and clear February day. In general, we found the route to be steeper and more technical than what is described in Nelson's Selected Climbs v.2. Perhaps this was due to the generally marginal slab pitches, which consisted of 60 - 70-degree "ice"...more like a combination of rotten verglass and a thin crust over a shallow layer of sugary snow.

Barring the initial gully pitch, which offered the best sticks of the day (but limited protection – bring some mid-sized cams for cracks at right), I'd hesitate to say that there was any real ice on the route. We placed 3 screws in total, and all in the same place - the anchor at the top of the first pitch. Tom was able to back-up the screws with a nut or two, though a party below us apparently found a better belay stance in a moat just off to the right. (Photos: SV)


Click thumbnails below to enlarge...
Climbing steep snow in the gully below the start of the route.

Tom leads the first pitch.

Searching for pro on the second pitch.

With a suspect piton hammered into a small crack halfway up the second pitch, Tom had no choice but to run it out all the way to a small cluster of trees above and left of our belay. As if to make an already dicey situation worse, Bala and I struggled to untangle the twin ropes while Tom waited nervously at his precarious stance halfway up this pitch.

Finally, it was our turn to climb. What a spicy lead that second pitch must have been! Thank God for that patch of frozen moss, eh? Only about every third stick was any good, and even then only for balance for it certainly would not have held my weight.

Bala at the cramped belay.

After another short pitch (this time with ample vegetative pro) with more sugary snow, a small rock step and yet another royal rope management cluster-fuck, we gained a notch in the North Ridge. Bala then led over a short knife edge section, and passing a large tree on its right, he continued upwards to the base of the first rock step in the ridge and reeled Tom and I in. Following tracks, we continued around the step by descending a bit to the right and traversed into a gully which we climbed back up to a belay beneath the next rock step.

Tom on the ridge.

Given the late hour (after 4pm), and uncertain how many pitches remained; we reluctantly decided it best to begin the descent. I briefly entertained the idea of rapping into the west basin and traversing back over to Pineapple Pass, but decided against that on account of the unknown.  So, we reversed our route along the ridge to the aforementioned tree and set up a rappel. We rapped the route in 4 "exciting" double-rope raps, the last of which was in the dark.

In hindsight, we should have just continued on to the summit - we only had two short ridge pitches left, followed by 2 easy double-rope raps down the South Face. The 8am start and rope issues didn't help much either. Live and learn…