&nbsp Vesper Peak - North Face, September 2002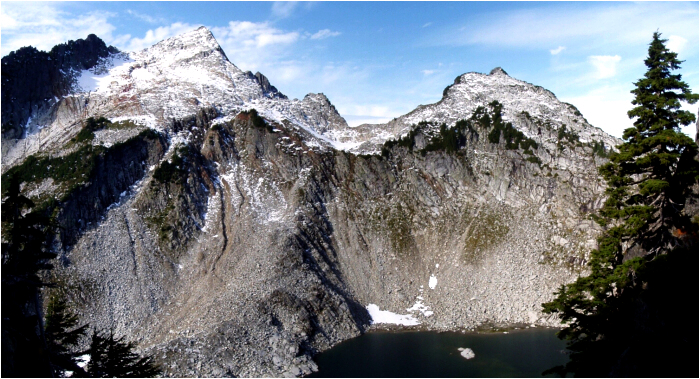 Vesper Peak (upper left) as seen from nearby
Sperry Peak
.

It was to be a sunny and warm late September day. Paul and I joined forces for what ended up being an enjoyable and relaxing day of alpine rock climbing. The North Face of Vesper Peak appealed to me for a variety of reasons. The short approach via the Sunrise Mine Trail, the scenic views of the Mountain Loop area peaks and beyond and the "classic" dihedral bisecting the North Face slab all made for an enticing package. According to Beckey, the "slabby 800-900 ft rock wall lacks the usual jointing features, and as a consquence is denied classic climbing lines. Yet the face has its appeal and affords challenging routes". Good enough for us!

We made good time hiking up the Sunrise Mine Trail into a basin beneath cliffs with Morning Star Peak rising to our left. Remnants of an early season avalanche obscured the trail as it crossed the debris and continued up the basin on its right side. Just as you begin to wonder where there could possily be an easy way up the imposing looking cliffs that protect the upper basin, the trail makes a sharp turn to the right and switchbacks steeply up to Headlee Pass (4,700'+). From Headlee Pass, the East Slope of Vesper Peak comes into view. The trail then drops a bit and traverses talus on the southeastern slopes of Sperry Peak. We crossed a creek near the outlet of "Lake Elan" and hiked up heather meadows below Vesper's East Slope.

We traversed low angle slabs and talus below the summit along Vesper's eastern flank to a small notch overlooking the Vesper Glacier. A much larger notch/pass lay below us just right of a rock knob and seemed to provide easy access to the glacier. We chose to avoid any glacier travel, leary of the steep ice and moats that were surely present this late in the season. From the upper notch, we easily located a dirty ledge that traversed below the North Face, permitting us to avoid the glacier entirely. We scrambled along the ledge, making the odd low 5th class move as the going became a little more difficult to a large diagonal ledge from which we set up our first belay. (Photos: PK, SV)


Click thumbnails below to enlarge...
| | |
| --- | --- |
| | Overlooking the cliffs at Headlee Pass. Red Mountain looms in the background. |
| | Vesper Peak (6,214') from Headlee Pass. |
| | Paul relaxes in the meadows below Vesper's East Slope. |
| | Looking up at the East Slope of Vesper. |
| | Three Fingers and Whitehorse Mountain in background. Little Chief Peak (est. 5,280') at far left. Copper Lake and Vesper Glacier in foreground. |
| | We followed the ledge to our first belay spot (circled). |
| | At the first belay. I led out up easy 4th/low 5th friction slabs working my way up and right to bypass a vertical step. Once above the step, a few easy moves got me to a large ledge directly below the main dihedral. This would be our second belay. |
| | The dihedral route we took (known as the Weigelt Route). |
| | Ascending the dihedral just above the second belay station. The climbing was relatively benign (mostly 5.5-ish) but with a bit of run-out. A few small ledges break the face, but offer little in the way of protection. I reached the end of the rope about 20' from the top of the face and had Paul take me off belay so that we could simulclimb. The final moves were perhaps the most challenging (though they felt easier than the reported 5.7). A large horn immediately on top of the dihedral provided an excellent anchor for a top belay. |
| | The lower section of lower-angle slab from Paul's "World's scariest photography platform". |
| | Glacier Peak (10,541') and Sloan Peak (7,835'). |
| | Close up of Sheep Gap Mountain (5,819') with North Peak at left (5,683'). North Crested Butte (5,318') at right and Mount Stuart (9,415') on the horizon. |
| | On horizon (L to R): Sentinel, Old Guard, Spire Point, Dome and Sinister. |
| | Spada Lake to the WSW. |
| | Panoramic shot of Monte Cristo Group. L to R: Gemini N (6,738'), Gemini S (6,799'), Pirate (6,640'+), Foggy (6,810'), Ida Pass, North (7,197') and South (7,186') Cadet, Monte Cristo Peak (7,136'), Kyes Peak (7,280'), Wilmans Peaks, Columbia Peak (7,172'). |
| | We reached the summit with hours to spare. Paul named off virtually every peak within view and took several photos of the surrounding area for various projects he's working on. We both took a nap and savored the warm sunshine before the inevitable hike back down to the car. This being late September already, we made the extra effort to enjoy the warmth. Not much longer now before everything within view will be blanketed in white...I think. |