Mount Swinica - Tatras (Poland), July 2001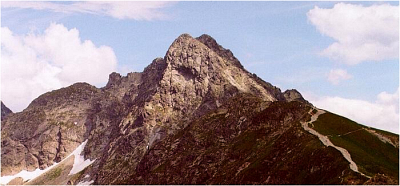 Agata and I travelled to the south of Poland after a week or so up north visiting family in Warsaw and Gdansk. We set out with plans to do some hiking in the High Tatras. We didn't know what to expect and were pleasantly surprised. Mt. Swinica is possibly the third highest peak in the High Tatras and sits on the border between Poland and Czechoslovakia. A ride in an antique Polish cable car took us to the ridge top and from where we started our hike. We had been informed by various individuals in the nearby town of Zakopane where we were staying, that without reservations we had better be at the cablecar station before 7am, otherwise we'd risk hours in line or no ride at all. So without reservations we arrived at the station before 7 and got our tickets within minutes...no waiting.
The weather was miserable and cold up on top of the ridge. Agata and I hung out and had breakfast in the cafe and gave the weather some time to improve. Eventually, the weather started clearing and we were on our way. First stop: Mount Swinica. We hiked along an obvious trail, following a ridge that defines the border between Poland and Czechoslovakia. From there we scrambled up sound rock to reach the summit of Mount Swinica. We decided to continue up and over the summit and descended the opposite side using fixed chains. We continued down into the basin below. From there, we hiked down to a stream and stopped for lunch. Not wanting to retrace our steps, we looped around on a separate trail below the peak to reconnect with our approach trail from earlier in the day. (
more...
)
Click
here
to view photos.