Mount Barbour - Tenquille Creek Trail, October 2022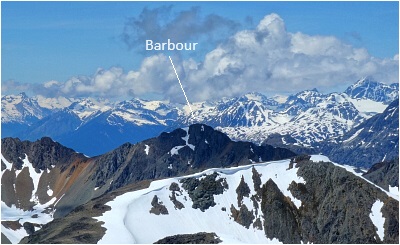 Located about halfway along the ~13-kilometer-long crest where well-trodden peaks such as Copper Mound, Mount McLeod, Seven O'clock Mountain, and Sun God Mountain are found is Mount Barbour. As with these others, Barbour is featured in Gunn's
Scrambles in SWBC
, benefits from relatively good access and can be accomplished in a very manageable day trip from Vancouver. The approach described in the guide follows a trail past Barbour's Draw/Valley that was once used by miners to graze horses as they traversed the range north-to-south. Culminating at a broad pass below Barbour's West Ridge, the 'draw is a very scenic place and well worth a visit just on its own. The scramble up the West Ridge is straight-forward and makes for a satisfying final ascent to a perch with impressive 360-degree views!
Barbour can be approached from the west via Tenquille Lake Trail or from the east via Tenquille Creek Trail. Having previously hiked to Tenquille Lake for both Tenquille Mountain and Goat Peak, I took the east approach for something different. I also brought a bike for the mostly flat ~5 kms between where the FSR is gated and the trailhead proper. Not sure what the purpose of this gate is as the road beyond is perfectly driveable by just about any type of vehicle, at least to the overgrown fork that continues up-valley to the trailhead. A sign near the gate does warn about grizzlies and some sort of seasonal closure, so travel here at your own peril. Reaching the road end, I stashed my bike and walked a short distance to a stream crossing with the trail just beyond. Pleasant forest hike from here some 2.7 kms to the junction with Tenquille Lake Trail. Turned left and headed up into Barbour's Draw. Up out of the forest in short order, entering an enchanting land of meadows and turquoise-hued lakelets. Leaving the main trail now, I continued straight ahead to reach a broad pass overlooking Lillooet River Valley far below. Turned left here and made my way up the lower west slopes of Barbour. Finally, I gained the West Ridge to avoid a steep rock face directly above and followed that easily up to the summit.
Great views despite some smoke obscuring the more distant peaks and glaciers. Noteworthy were Mount Sampson and the Railroad Group, Sun God Mountain, Lillooet River Valley and of course a bird's-eye view of the 'draw! Spent about :45 up top before heading back down. Back at the trailhead, I heard an unsettling rustling/crashing sound off in the bush adjacent to the old road as I was retrieving my bike. Something BIG was lurking nearby! On with the helmet, then took a deep breath before cranking hard and fast, making as much noise as I could! Please Mr. Grizz let me pass by unscathed! Back to the truck and cold beer without incident thank God, another bullet dodged and another peak down!
Click
here
to view.