Cartmell Peak - Cartmell Peak Trail, February 2022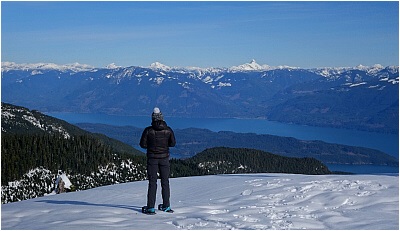 High pressure having returned to the South Coast combined with a lack of recent snowfall; we postponed plans for "slackcountry" touring in favor of snowshoeing up something we hadn't yet been to. Never been to Sasquatch Mountain Resort-a small ski hill north of Chilliwack formerly known as Hemlock Valley-but something there piqued my interest, and it had nothing to do with shredding the slopes! With good access from the resort base area and impressive views overlooking Harrison Lake from the west, Cartmel Peak has become an increasingly popular Winter objective. And so, on a crisp, cloudless morning in February we made the long drive up the Fraser Valley for a look-see around the 'squatch.
Having purchased our snowshoe passes, we set out along the edge of the piste just right of the main lodge towards a snowshoe trail named Old Yeller and marked with a yellow lollipop. This we followed to a four-way where we went left onto the Ridge Run Trail, now marked with an orange lollipop. Having gained the ridge crest, the trail forks again, with the right branch (green lollipop) leading to Cartmel Peak. Great views of Harrison Lake as expected, and of the surrounding peaks such as Robie Reid, Judge Howay, the Chehalis Group including Stonerabbit, Ratney and Bardeen, north towards Mount Breakenridge and the usual suspects flanking the east side of the lake such as The Old Settler and a striking thumb of rock that goes by Mount Urquart. After a good while of gawking, we retraced our steps back to the Ridge Run junction, this time taking a right and following a snowcat trail now as it follows the crest at the head of Hemlock Valley. Enjoyed great views overlooking the resort ski bowl area as well as familiar Cascadian peaks in the distance. We had toyed with the idea of bagging nearby Mount Klaudt as well, but the views from the Ridge Run Trail were much better than what Klaudt's treed summit apparently offers. Apres beers at the base area lodge made for a fitting conclusion to a fine day of 'splorin the Hemlock Valley backcountry!
Click
here
to view.