Black Peak - South Route, Sept. 2002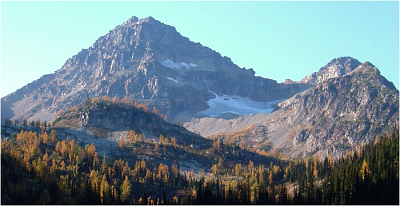 A prominent peak with a classic route of low-to-moderate technical difficulty, Black Peak's Northeast Ridge peaked my curiosity. I imagined climbing an aesthetic knife edge ridge similar to the West Ridge of Forbidden Peak. Rising just south of HWY 20 and due west of Cascade Pass, the summit views would also be unlike any I had seen before in the Cascades up until this trip. With that in mind, together with Scott and Ryan I drove over to the Lone Fir Campground (north of WA Pass) on a Sunday afternoon with high hopes for a NE Ridge climb the following day. Though skies were overcast that evening, the forecast was calling for sunny skies by Monday afternoon at the latest. We claimed our camp spot, set up our tent and drove on into the town of Mazama to spend what was left of the day climbing some sport routes at the local crag (Fun Rock).
We awoke around 4:30 that morning to overcast skies and made the short drive over to the Rainy Pass trailhead. We hiked up along the Lake Ann Trail towards Heather Pass. A path bears right and downwards towards rock slopes and Lewis Lake in the distance. We continued on the trail bypassing the lake on the south (right) side aiming for a moraine slope above the lake. The trail led us up through larch meadows before reaching Wing Lake. Looking back across the valley from the lake, we could see the clouds slowly lifting from the nearby peaks. (
more...
)
Click
here
to view photos.