Mount Challenger - Wiley Ridge, August 2003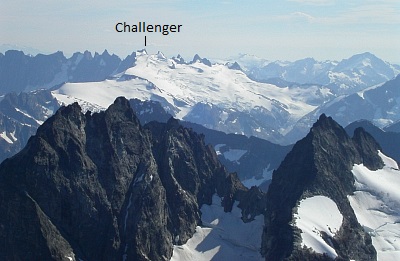 Mount Challenger is one of those elusive North Cascades summits I figured would remain on my tick list forever. Requiring at least 4 or 5 days (roundtrip) by any of the three standard approaches (Wiley Ridge, Hannegan Pass and Chilliwack River), an ascent of Mount Challenger involves planning, logistical considerations, and most importantly time off from work. The peak is remote. Located at the northern climax of the rugged Picket Range, Challenger is seldom seen from most North Cascades summits and is probably best spied from the Chilliwacks.
Finally in August of 2003 an opportunity to climb the peak materialized. Together with John Mefford and Larry Trudeau, plans were put into motion. We relied on Larry's experience, gleaned from several failed attempts at reaching the summit in deciding which approach to take. The Wiley Ridge approach is longer than the Hannegan Pass approach, but isn't subject to as much elevation loss/gain and route finding difficulties encountered at the notorious Imperfect Impasse. Furthermore, the Big Beaver Trail is generally flat for most of the 14 miles to Beaver Pass, making for quick going. The only real uphill sections of trail are encountered when one nears Luna Camp and again shortly before Beaver Pass. A steep and unpleasant bushwhack up from Beaver Pass to Wiley Ridge definitely lessens the appeal of this approach, but is however possibly still the better way to go especially if one is unfamiliar with the other approaches. The Chilliwack River approach is reportedly quite brushy, and since it starts from a trailhead in BC probably doesn't make much practical sense for most Washington-based climbers.
Larry had arranged a water taxi (call 206-386-4437 for reservations) the previous day for a 10:00 am (Wednesday) rendezvous on the shores of Ross Lake. The $25 boat ride to the Big Beaver Landing shaves about 7 miles (one way) of foot-travel from the trip. If planning on being picked up by boat on the return, be prepared to pay another $25 in advance. We arranged for a 5:00 pm pickup on Monday with the option of rescheduling the water taxi pickup for Sunday by placing a call from the summit of Mt. Challenger (we picked up Canadian cell towers from the summit).
We pulled off Hwy 20 and parked at the large Diablo Lake Trailhead parking area (shortly before Ross Lake Overlook). With painfully heavy packs and tennis shoes, we started the 1-mile hike down from the road to Ross Lake. No more than five minutes down the trail, I tweaked my right ankle and bashed my left knee on a rock as I fell to the ground. Cursing to myself, I immediately put my boots on (ankle already swelling) and limped the remaining distance down to the lake. Though I was most concerned with the ankle, I must have bruised my patella during the fall, as each downward step resulted in sharp jolts of pain in my knee. This is how I start a 5-day trip?! Near the landing, Larry located the water taxi phone and called the folks at Ross Lake Resort, visible across the water, to inform them of our arrival. This was my first boat ride on Ross Lake. Unfortunately, the experience was tainted by the unsettling, hot, ache coming from my ankle. Rid of another $25, we soon found ourselves standing on the Big Beaver Landing, the sound of the water taxi speeding back to the resort and fading into the background.
The hike up Big Beaver Trail was pleasant, passing through beautiful, mature old-growth forest, paralleling the turquoise waters of Big Beaver Creek. We quickly settled into a comfortable pace as conversation helped the miles and time pass. It seemed the deeper into the valley we ventured, the more backpackers we encountered. Everybody, however, appeared to be on their way out. Before we knew it, John located a USGS marker on the side of the trail, at which point we decided to stop for a rest. A quick glance at the map indicated that we were about a mile shy of Luna Camp, roughly 10 miles in. About a mile past Luna Camp, John also located the primitive arrow carving used to identify the unofficial Access Creek turnoff. I'll have to remember this for when I return here to climb Luna Peak and Mt. Fury. The remaining portion of trail to Beaver Pass passed through alternatively forested and brushy terrain, before the final steep switchbacks leading to Beaver Camp near the forested pass. The last of these open, brushy swaths offered us our first, though partly obscured views of Mt. Challenger. We reached Beaver Camp shortly after passing the shelter and began waging war with the mosquitoes. It was about 6 or 7 pm. John brought water to a boil while I massaged my sore ankle. After dinner and liberal amounts of whiskey, sleep came quickly for me. All was good in the world until the snoring began.
Morning found me questioning my ability to continue with the climb. The ankle had swollen and stiffened considerably overnight. Day two was also quite possibly the most strenuous day of the entire climb. With 2000 feet of steep bushwhacking, steep heather traverses and endless scree and boulder fields, this wasn't going to be pretty, I thought to myself, and hesitantly followed John and Larry out from camp. We continued a short distance to Beaver Pass before locating a faint path branching off to the left. The path led to a clearing at what appeared to be a weather measuring station. From the clearing, we could look up at the forested bushwhack slope that we were about to ascend. Rather than climb up through a light-green colored and presumably brushy strip somewhat left of where we were standing (a watercourse?), we instead opted to proceed up the less brushy, but, densely timbered slope directly ahead of us. The ankle had loosened up a bit and uphill travel wasn't bothering my knee too much. So far so good!
We soon reached the base of a small cliff band and traversed left to find a steep, mossy gully allowing us to gain the upper timbered slope. Larry, who was reconnoitering an alternative gully around a small buttress left of the gully John and I used, soon joined us for another helping of brush above the cliffs. After a brief rest in a small boulder field and later one final dose of brush, we finally reached open heather slopes. Larry, having previously been to Wiley Ridge, took the lead as we made an ascending leftward traverse to the crest of the ridge. As the ridge crest narrowed, a defined trail became apparent. We rested again, this time on a flat rock overlooking the Luna Creek Valley with majestic views over to Luna Peak and the Northern Pickets.
The trail follows the craggy and narrow ridge-top before becoming indistinguishable at a very steep grass and dirt traverse on the left side of the ridge (consider wearing crampons if wet). We descended several hundred feet below the craggy crest, crossed over a small rib or two and traversed a couple of small basins, generally contouring at the 6000 ft level. From the bottom of the largest of these heathery basins, I found it easier to contour above cliffs at roughly 6500 ft, before fighting my way through a wall of scrub evergreens lining the edge of the next rib. A short descent on scree brought us to the upper portion of a large boulder-filled basin below the broad, sandy, ridge crest, and the first good bivy sites. There was unfortunately no water to be found nearby, so we kept going. Looking to the west, we could see Whatcom Peak rising just beyond the edge of the Challenger Glacier. After a short hike up along rounded slabs above the bivy sites, we soon found ourselves standing at the edge of a steep drop-off (6,900 ft) with icy Eiley Lake lying several hundred feet below. Flat spots looked scarce beyond this point, and so Larry suggested we make camp somewhere on a flat patch of heather nearby. We picked a first-class camp spot, with easy access to water and panoramic views of Luna Peak and the subsidiary summits of the Luna Creek cirque. High clouds passed by that evening and threatened to develop into something more substantial. Would we encounter rain on summit day, as was forecasted?
We awoke that next morning to a cool breeze, but otherwise blue skies. Looking west, it appeared as if weather was starting to move in, with dark, featureless, clouds and lenticulars seemingly on the advance. We wasted little time and got moving shortly after first light. The steep scree descent down to Eiley Lake was followed by a short slog on snow back up to the slabby ridge crest above Wiley Lake. We then descended slightly left of the crest to Wiley Lake (a better and faster way, would be to descend snow fields on the right side of the crest and lake). From slabs near Wiley Lake's southern shore, we again ascended more talus before climbing a short distance on a small glacier (crevasses were present). We again reached a flat, broad ridge crest and contoured right on snow with a large, deep, snow and talus basin and intervening ridge, lying between us and the edge of the Challenger Glacier. We ignored the unpleasant looking gully descending deeply into the large basin on the left side of the crest, and instead continued traversing rightward on snow slopes, aiming for a notch in the craggy ridge ahead of us. The wind was howling through that notch! The weather still did not look very promising. Mount Baker, however, was in the clear and I figured it would be a good barometer for how fast this supposed "system" was advancing. Nevertheless, we came this far; there's no turning back now! Once below the notch, we climbed back up a short but steep snow slope to our right, before reaching the final heather benches and talus above the immense Challenger Glacier. Our route up the glacier was clearly laid out before us. The summit looked close and I estimated we would be on the summit before noon. We descended to the glacier and stopped to rope up.
The glacier slog was easy, if not somewhat boring. Remarkably, however, the wind subsided and the weather began to improve. We crossed the bergschrund below the final, steep, snow slope on a good bridge. A short stroll on a snow arete brought us to a moat, within which we stashed our crampons and axes. We scrambled out of the moat on loose and exposed blocks towards the final summit tower. Reaching the true summit ridge of Mt. Challenger involves climbing a 25 - 30m pitch rated anywhere between 5.4 - 5.7 (it felt like 5.7 with mountaineering boots). We had a 50m rope and some slings and 'biners for pro (there are about 4 pitons in the rock, making for adequate protection). John took the lead, I followed, and Larry brought up the rear. A final short scramble along the exposed summit slabs leads to a 10-ft block that feels awkward climbing up, especially when one considers the exposure (there may be an easier way around to the right). I sat down, wiped the sweat from my brow (it turned out to be a scorcher of a day) and I fished for the summit register. It was 11:30 am. Larry and I picked through the assortment of tattered photocopies from "Selected Climbs" and the "CAG" and struggled to identify any familiar names. Ben Manfredi and Jason Hummel appeared to have been the last party to reach the summit, simply judging by the condition of the page their names were written on. But, that was back in June, and I find it hard to believe there weren't any other parties since then. John actually intended to replace the summit register, but after considering the weight of his pack back in the parking lot, decided to leave it behind.
So this is the culmination of three days of hard work in the North Cascades? Not bad at all! Yep, the views were easy on the eyes too. I dialed the water taxi number and handed the phone to Larry (analog mode). We moved up our scheduled pickup to 5 pm Sunday. Needless to say, the person Larry spoke with was surprised to learn we were calling from the summit. We lounged on the summit for about 45 minutes before heading back down. We returned to camp the way we came, stopping for a breathtakingly frigid dip in Eiley Lake on the way. We had one more night on Wiley Ridge, before the inevitable grind back to Beaver Pass. Spirits were high and I toasted the night by polishing off the rest of the whiskey. We got a leisurely start the next morning. Thick, dark clouds were looming again to the west, but this time much closer. The Picket Range, however, acted as a weather barrier, to block the eastward advance of what were obviously moisture-laden clouds. We took advantage of this fortunate weather phenomenon, packed up, and hurried back down Wiley Ridge. Just before the bushwhacking section we found a fairly obvious trail descending into brush at the far right (south) side of the ridge. The trail descends into what appears to be the light-green colored watercourse mentioned earlier in this report (the clearing with weather measuring instruments visible far below). At about the time I convinced myself beyond a shadow of a doubt that this seemingly well-traveled trail would take us straight down to Beaver Pass, the trail vanished in a dry but mossy creek bed. I could hear Larry saying, "I told you so" under his breath. We suffered through that jungle for well over an hour, crossing numerous creek beds, following some until they became too slick or steep, until finally escaping to a comparatively open timbered slope.
Crashing through low brush near Beaver Pass, Larry and I were startled when John, who was slightly ahead of us, yelled "Oh Shit! Bear! Bear!" and took off running. Apparently, the bear, surprised by John's reaction, took off running as well, and for a moment, both were running parallel to each other. I couldn't tell who was more startled, the bear or John. We returned to our Beaver Pass campsite to take a break and retrieve the extra food we had stashed. Our objective was to stop at Luna Camp and hike out the remaining 11 miles the following day. Instead, we continued on about a mile past 39 Mile Camp to a clearing alongside Big Beaver Creek. After setting up camp, we cooled off in the creek. Larry finally convinced me to try the "shock therapy" method of cold water immersion. Damn, that water is cold!
We hiked out the remaining five miles the next morning in a light rain, reaching the crowded Big Beaver Landing campsites in a little over two hours. The water taxi arrived to pick up another party. Rather than stick around until 5 pm (or hike an additional 7 miles), we talked the driver into also picking us up after dropping off his current load of passengers. In the meantime, John and I took a swim in the comparatively warm Ross Lake. Before long, we found ourselves back at the car and helping tourists locate the various boat landings on Ross and Diablo lakes. At camp that last night near Big Beaver Creek, Larry mentioned that we had used up more than our fare share of good luck on this trip. Considering the good weather, despite the less than optimistic forecast, my ankle's rapid recovery and earlier than scheduled water taxi pick up on the way out, I would have to agree. Everything went according to plan and five days is a relatively casual, though thoroughly enjoyable way to climb Mount Challenger.
Click
here
to view.