Mount Challenger - Wiley Ridge, August 2003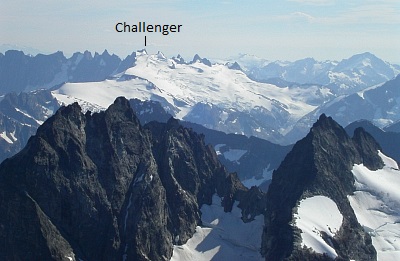 Mount Challenger is one of those elusive North Cascades summits I figured would remain on my tick list forever. Requiring at least 4 or 5 days (roundtrip) by any of the three standard approaches (Wiley Ridge, Hannegan Pass and Chilliwack River), an ascent of Mount Challenger involves planning, logistical considerations, and most importantly time off from work. The peak is remote. Located at the northern climax of the rugged Picket Range, Challenger is seldom seen from most North Cascades summits and is probably best spied from the Chilliwacks.
Finally in August of 2003 an opportunity to climb the peak materialized. Together with John Mefford and Larry Trudeau, plans were put into motion. We relied on Larry's experience, gleaned from several failed attempts at reaching the summit in deciding which approach to take. The Wiley Ridge approach is longer than the Hannegan Pass approach, but isn't subject to as much elevation loss/gain and route finding difficulties encountered at the notorious Imperfect Impasse. Furthermore, the Big Beaver Trail is generally flat for most of the 14 miles to Beaver Pass, making for quick going. The only real uphill sections of trail are encountered when one nears Luna Camp and again shortly before Beaver Pass. A steep and unpleasant bushwhack up from Beaver Pass to Wiley Ridge definitely lessens the appeal of this approach, but is however possibly still the better way to go especially if one is unfamiliar with the other approaches. The Chilliwack River approach is reportedly quite brushy, and since it starts from a trailhead in BC probably doesn't make much practical sense for most Washington-based climbers. (
more...
)
Click
here
to view photos.