Craters of the Moon, August 2010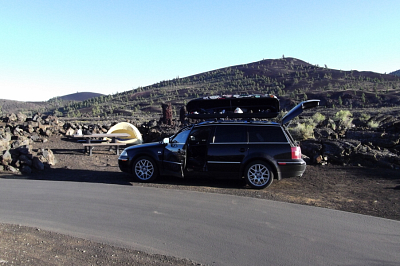 Craters of the Moon, to me at least, seems to be a relatively unknown and underappreciated National Monument tucked away in south-central Idaho. I happened upon the monument only after my folks visited there earlier in the spring and suggested that I go have a look for myself. Being that I was en route from Jackson Wyoming, following a climb of Grand Teton to climb Mount Borah (the tallest peak in ID), I naturally found myself driving Idaho's scenic State Route 20 (aka Goodale's Cutoff) towards the town of Arco. For those of you unaware, Arco holds the proud distinction of being the first town in the US to be totally electrified by nuclear power. In fact numerous atomic research facilities dot the desert landscape east of town, all of which bear some resemblance to the much-maligned Hanford site near Washington's Tri-Cities.
A short distance southwest of Arco lies the Craters of the Moon National Monument. Where better to burn an afternoon sightseeing, resting-up and camping the night prior to a Mt. Borah climb? Craters itself is unique in that it reminded me very much of the moonscape-like lava fields on Hawaii's Big Island. Honestly, where else on the mainland do you see such things? From caving in frigid lava tubes, hiking the rim of a long extinct cinder cone, to wandering across a vast and ancient lava flow, it is safe to say that I was pleasantly surprised by what Craters has to offer. Oh, and best of all the monument is not overrun by tourists like the uber-popular National Park a few hours to the northeast!
Click
here
to view photos.