Mount Daniel - East Peak, August 2000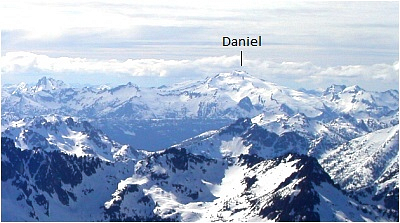 Mt Daniel along with neighboring Mount Hinman is one of the largest glaciated peaks of King County, Washington. Its modest elevation belies the fact that its slopes hold three substantial (and rapidly retreating) glaciers. The dome-like structure of these peaks, which allows for a very large accumulation of snowfall is likely responsible for a relatively large amount of glacial ice existing here at such a low elevation. In any case, it was to be a warm, sunny weekend in August and after reading Jim Nelson's description of Mount Daniel the 'Selected Climbs - v.1' guide book, I was inspired to climb this interesting glacier-clad peak. Joined by Chris and Tim, we drove out to Cle Elum for some last minute supplies and turned onto a gravel road for a dusty ride to the trailhead. A trip out to Mount Daniel's East Peak entails an easy trail approach followed by low to moderately angled snow slopes and a final easy scramble near the top. Its position just east of the Cascade Crest also makes for better weather as well as some uniquely scenic views.
We gained the ridge that afternoon and set up camp on a level area next to a small lake, similar to the one pictured. The mosquitos were voracious that evening. Tim decided to stay at camp that next morning as he didn't have adequate footwear and wanted to relax by the lake. Chris and I wished him well and set out on our way. We followed an obvious trail that led directly to the base of Cathedral Rock. We figured that the route continued along ledges on Cathedral Rock and so we climbed up short sections of rock to a series of level benches. We traversed below some cliffs, lost the trail and spent the next couple hours negotiating tricky chutes, gullies, scree slopes and steep brush-covered slopes en route to Peggy's Pond. The actual trail traverses the slope below us and leads directly to Peggy's Pond. (
more...
)
Click
here
to view.