Dolomites, Winter 09/10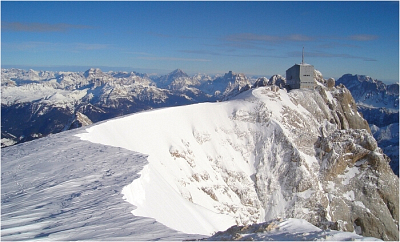 Between the 12 hours stranded in Frankfurt on the way in and the two days stranded on the way back, you'll forgive my unembellished recount of the Italy trip this time around. The stunning gross incompetence exhibited by the Frankfurt airport and Lufthansa airline staff to effectively manage the several hundred poor souls hopelessly stuck at the mercy of German inefficiency and non-hospitality is NOT something I'm liable to forget anytime soon. And why our board bag arrived three days late in Verona and seven days after we returned to Seattle still baffles me. I suppose we should be happy we got the bag back at all. In any case, I could easily dedicate this entire report to how awful the trip to and from Italy was this year, but I won't. Suffice to say that I'll never set foot in that godforsaken shithole of an airport again!
While lowland snow was wreaking havoc with many of Northern Europe's major hubs, winter showed an entirely different face in the Eastern Alps. The Dolomites experienced a very unusual warm spell, bringing rain, wet snow and high winds to the alpine. Not only did this event smother the soaring limestone towers in a spectacular and rather Patagonia-esque blanket of rime ice, it also set off an impressive avalanche cycle the likes of which I've never seen before. Combined with the high winds at altitude, I'm certain the uncharacteristic weather contributed to the large soft slab avalanche in Sass Pordoi's Val Lasties in which four of seven mountain rescue personnel perished. While I personally question the judgment in staging a nighttime rescue attempt to locate two reportedly overdue snowshoers, the tragedy prompted the usual overreaction and effectively rendered the choice slopes in the vicinity of the Pordoi Pass tram off-limits to skiers for the rest of the time we were there. Only to local extreme skiing legend Valeruz did the heightened precautions apparently not apply. Celebrity clearly has its advantages.
The tragedy dealt a rather large blow to the little village of Canazei and it was pretty somber place there for a few days. They pulled all the stops for the funeral - mayors, ski patrol, search and rescue, mountain guides and so forth. All in full uniform or traditional dress, from all across the neighboring valleys they came to Canazei for the service. Hard not to shed a tear seeing the greater community mourn like that.
Anyway, the riding in the Dolomites amounted to a little bit of everything - ice, dust on crust, waterskiing, mashed potatoes, wind-pack and thankfully also some pow. Certainly not the epic snows of years past, but definitely far better than two years ago. Yes thank you, I needn't be reminded of last season's 40-year snow record. In any case, we explored new lines at Porta Vescovo, Piz Boe and Cherz, poached an old favorite or two and made the requisite off-piste descents of Marmolada Glacier. We logged a respectable 10-days back-to-back so I'm not complaining. By the looks of it, it appears we didn't miss much at home during this period, so no regrets!
Click
here
to view photos.