Dorado Needle - Southwest Buttress Northwest Ridge, July 2007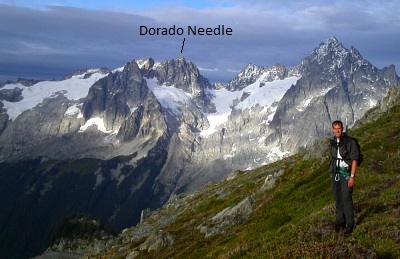 Paul and I tried for the Southwest Buttress of Dorado Needle on July 7, but got suckered up the wrong gully and were stymied by unexpectedly difficult (desperate?) climbing with sketchy protection. The good fortune one might expect for 7/7/2007 wasn't ours to enjoy. We endured steep, hard snow, moats and wet, slabby rock in the aforementioned gully before we ultimately pulled the plug and retreated with tails between our legs. Three raps off of gear and a horn saw us safely back down to friendlier terrain beneath Dorado Needle's Southwest Face. While rapping, Paul and I saw another gully a bit left of the one we had just bailed from, but noted that it too seemed unpleasant. In hindsight we should have probably investigated further for this was apparently the correct start gully for the Southwest Buttress route. I have noted the correct gully in relation to the one we attempted below in this report.
In the end, we still managed to bag the summit via the standard Northwest Ridge route. Our success, however was bittersweet considering that we'd somehow botched our original plan. No matter though, t'was a fun weekend in sublime surroundings nonetheless. Paul sacked-out early that second night at camp while I sat around and watched the sun set on familiar peaks. Mesahchie, Logan, Forbidden (with Goode peeking), Formidable and the peaks of the Ptarmigan Traverse farther in the distance. Then there's Johannesburg - as Jim Nelson puts it, "...a taunt, a dare, an invitation." Damn you Johannesburg! Overhead, clouds continued their advance eastward while the summit of Eldorado Peak was already engulfed in fog. Good! At least that way I won't feel compelled to run up and tag the summit the next morning. I took one final swig of whiskey and called it a night myself. Zzz... (
more...
)
Click
here
to view photos.