Eldorado Peak - Northeast Face, March 2005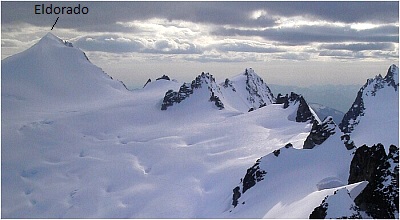 Faced with a virtually non-existent sub-alpine snowpack and surprised by more unusually clear and dry weather during the months of February and March in 2005, I felt it was time to check out how the higher elevation snowpack was faring. Somehow I decided that Dorado Needle's Northwest Ridge, with its two or thee pitches of low to mid-fifth class rock, would be the ideal venue for this so-called study in "snow science." I scared up a couple willing souls - Tom Sjolseth and Jerry Sanchez (not the Tom and Jerry of cartoon fame), to join me on my silly quest. Jerry also opted to bring skis, and suffered the heavy pack on the approach to our Eldorado - Roush divide camp, arriving for once in 3rd place. Unlike my previous visit in April 2004, there was absolutely no trace of snow until the tree-less upper-basin. How depressing! Another party was digging out a tent platform just below us on the divide when we arrived. We chatted briefly - I think they were gunning for Eldorado or Klawatti.
We ate dinner, and with only a faint glow of the setting sun on the horizon witnessed an incredibly HUGE meteor streak across the western sky. It was a large, green fireball that was visible for about 5 or more seconds before dropping behind some distant ridge. I instinctively braced myself for the impact, which of course never came. Relieved that the World wasn't about to end, we settled into our bivies for the night. With my earplugs in, I slept soundly. Tom however had to endure a night of Jerry's loud snoring and noxious emissions and by morning had coined an appropriate name for Mr. Sanchez - El Diablo! (
more...
)
Click
here
to view photos.