Forbidden Peak - West Ridge, July 2002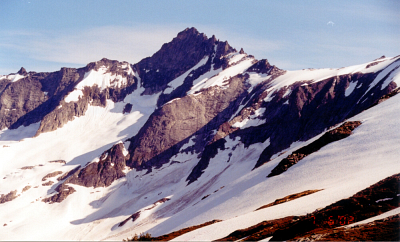 Considered one of the 50 "classic climbs" of North America, it was simply a matter of time before I felt I had what it takes to lead a climb of Forbidden Peak's West Ridge. And so, with a favorable weather forecast for a July weekend I made the call and together with Tom and Andy drove over to Marblemount early on a Friday afternoon. We secured the last available Boston Basin permit for the night and started making our way up the Boston Basin trail at 6:00pm that evening. We made good time hiking into Boston Basin. Despite having to slowly pick our way through a couple large swaths of forest flattened by what were surely massive spring-time avalanches, we still made it to camp in about two-and-a-half hours. We set up camp on some flattish rocks up high on the left side of the basin, below Forbidden's South Face. We awoke to low morning fog that burned off as the sun rose in the sky.
We walked straight up to the base of the couloir and roped up for the thin bergschrund crossing. Tom belayed Andy as he crossed over the snow bridge at the base of the West Ridge couloir. The couloir went at about 45/50 degrees. Firm snow made for enjoyable climbing. We reached the notch at the base of the West Ridge and were treated to spectacular views of Eldorado Peak and Moraine Lake. We belayed each other up the easier 4th class terrain lower down on the ridge to get a feel for how we would be able to manage a three-man team on a single 60m rope. While hanging out at the belay, I lost myself in the views of Spider Mountain, Dome Peak, Mount Formidable and Glacier Peak to the southeast. To the north lay Klawatti Lake with remote Primus Peak and Tricouni Peak behind it. Incidentally, Tricouni was a type of boot with nails for spikes sort of like an early version of crampons. (
more...
)
Click
here
to view photos.