Forbidden Peak - East Ridge, July 2008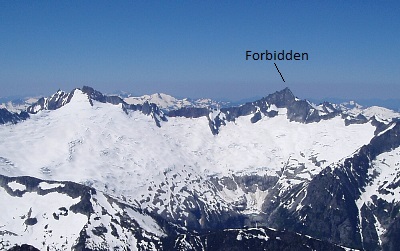 I first climbed Forbidden Peak back in July 2002. At the time, completing the classic West Ridge was a milestone for me - it was one of my first technical alpine rock routes and ultimately paved the way for the countless other alpine rock climbs that followed. The route was also the first of the few Steck and Roper "50 Classics" that I have climbed. Boy, I thought I was in the big leagues after that! What's not to like? An airy ridge with excellent granite, awesome position and sublime vistas of glaciers, peaks and lush valleys, and all in the heart the North Cascades. Nowhere else in the range perhaps does one find such a combination at such a moderate grade. Sure, it's easy by technical standards, but that in my opinion does not detract from the aesthetics of the route. The climb is just plain fun, and has a lot of what one wants and little of what one doesn't. If only it was longer. Little wonder then that many return to repeat climbs on the peak.
With memories of my 2002 climb now fading into obscurity, a trip to revisit what can arguably be considered the crown jewels of the North Cascades National Park was long overdue. I recruited Eli into joining me, and set my sights on Forbidden's slightly more challenging East Ridge Direct (ERD) this time. Longer and somewhat more committing, with multiple gendarmes that must either be climbed over or bypassed, the ERD presents a uniquely attractive alternative to the often-overcrowded West Ridge. Furthermore, with the mighty Boston Glacier as the backdrop, the position and setting is unsurpassed and easily tops that of any ridge route I have done. With the camping permit formalities behind us, Eli and I proceeded to the all-too-familiar gated road-end at Eldorado Creek and shouldered our packs for the two-mile road hike to the Boston Basin Trailhead. The rangers had informed us previously that the road would be open to Cascade Pass by the following day, but unfortunately this did not fit-in with our climbing itinerary. The hike to camp was uneventful, though the heavy cloud cover felt strangely reminiscent of last year's failed attempt on the ERD. What happened to the "mostly sunny" forecast? (
more...
)
Click
here
to view photos.