Mount Goode - Northeast Buttress, July 2003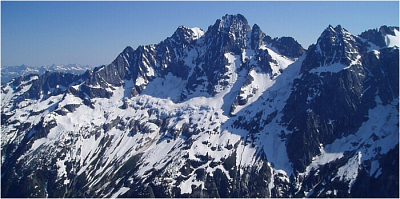 Tom, Eric, and I set out to climb the Northeast Buttress of Mount Goode from Hwy. 20. Unless you're a glutton for punishment, I suggest making the approach via Stehekin; it's about half as long. A 14 mile approach is a long way to go to start a climb. Adding insult to injury, the combination of a late start on summit day, getting off route on the buttress, and being a party of three, all conspired to force an unplanned bivy at 8000ft. We debated the merits of carrying over, but didn't savor the notion of schlepping all that gear up over, around, and back down the mountain. It was a tough call to make. A casual chat with a fellow climber at the ranger station in Marblemount helped with our dilemma. "Oh yeah, it's easy" he said, referring to the NE Buttress. "I climbed it as a party of three and it only took us two hours, we simulclimbed the entire route...if you're comfortable on rock, you'll have no problem." I looked at Eric. He nodded approvingly. Well, if it only took them two hours, surely we could pull it off in a day. Or could we?
We parked at the Bridge Creek Trailhead (about a mile or two beyond Rainy Pass), crossed Hwy. 20, and started the long, dusty trek down the Pacific Crest Trail (PCT). It was 10am and we had about 10 miles of easy hiking on the PCT, downhill for the most part before reaching the Walker Park Trail junction (North Fork Bridge Creek). Scenes from those 10 miles of hiking weren't too terribly interesting but included numerous stream crossings (one over a suspension bridge near where Bridge Creek narrows to a canyon), touron sightings, and brief glimpses of distant peaks-Bowan Mountain (7,895 ft) at left about 5 miles in, and what was probably Spider Mountain directly ahead. We turned right onto the North Fork Bridge Creek Trail, and continued for about another 3 miles before stopping to filter some water at Grizzly Creek. We looked up-valley at hanging glaciers and intimidating rock faces partly obscured by clouds, towering high above timbered slopes (Mount Goode at left with Storm King Mountain at right). After a brief rest, we continued hiking for about another mile until we spotted a faint trail spur off to our left, heading into the brush (immediately after last stand of trees before large clearing). (
more...
)
Click
here
to view photos.