Hidden Lake Peaks, March 2005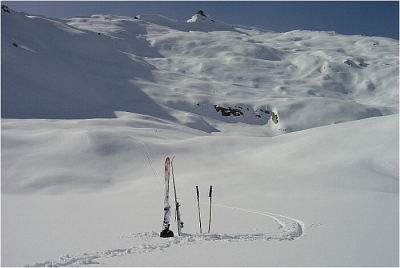 With Jerry reporting good snow conditions the week prior, Andy, Eric, Jerry and I set out on a futile search for some good two-week old powder on Hidden Lake Peak's East Slopes. Instead of powder, we enjoyed a nice breakable crust and flat light on what was to be the money descent of the tour. We did, however locate a short powder slope upon descent from the lookout. And speaking of the lookout - we would encounter local ski 'celebrities' Phil, Sky, Jason and Josh taking a nap inside. I think they had big plans to ski something gnarly in the Triad area the following day.
Needless to say, there's no shortage of ski terrain here and in the right conditions one could easily spend a couple days lapping various slopes to their heart's delight. The lookout makes for an obvious place to stay for the night, despite the obvious fact that it sits on the summit rather than convieniently down in one of the basins. I'd much rather finish my day with a ride down to the hut rather than a skin back up to it. Beggars can't be choosers as they say.
Click
here
to view photos.