Klawatti Ice Cap Traverse (Klawatti, Primus, Tricouni and Austera peaks) - April 2004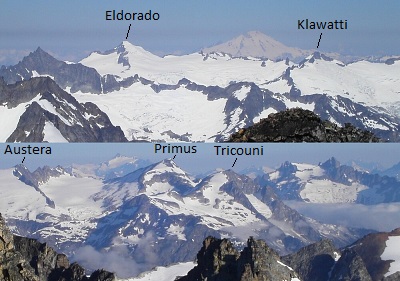 While mulling over potential candidates for, in Tod's words, a "Super Tour" (interpreted to be a long, remote and scenic weekend tour), I casually suggested doing something around Austera Peak. The Austera Peak description in Jim Nelson's Selected Climbs in the Cascades (volume 1) guide book - "...it is the view into the heart of the McAllister Cirque itself that stays with you, those twin icefalls tumbling into that pristine wilderness valley, as wild as any place in the range", had me particularly motivated to visit the area. In hindsight, Jim was absolutely correct. The summit of Austera Peak is a place you simply do not want to leave. The scenery from this wild and remote corner of the North Cascades is dramatic; a view that's enhanced this time of year by a winter blanket of snow draping the high peaks and valleys alike. But, why stop at just Austera? The area surrounding Austera Peak is actually a small ice cap, punctuated by numerous peaks of interest. Arguably the only true ice cap in the lower 48, the "Klawatti Ice Cap" is without an equal in the Cascade Range. It is without surprise, therefore, that the Klawatti Ice Cap Tour was born, with the promise of offering a unique and unparalleled alpine experience.
I honestly can't remember the last time when planning a weekend trip like this generated such a flurry of emails. A party of five certainly takes its toll on one's inbox. Come Friday we had finally hashed out the details of our trip. Our ambitious itinerary included 4 summits (Klawatti Peak, Austera Peak, Primus Peak and Tricouni Peak), foregoing Dorado Needle's Northwest Ridge in favor of leaving the classic SW Buttress for some future climb. We would also be crossing 5 glaciers (Eldorado, Inspiration, McAllister, Klawatti and North Klawatti) on our traverse. Needing to return on Sunday, Jerry, Tod and John opted for the Friday night trailhead bivy and first-light start. Paul and I, on the other hand, planned on staying until Monday and so chose to leave Seattle early Saturday morning instead (~ 4:30am). (
more...
)
Click
here
to view photos.
KLAWATTI_ICECAP1
KLAWATTI_ICECAP1
KLAWATTI_ICECAP1
KLAWATTI_ICECAP1
KLAWATTI_ICECAP1
KLAWATTI_ICECAP1
KLAWATTI_ICECAP1
KLAWATTI_ICECAP1
KLAWATTI_ICECAP1
KLAWATTI_ICECAP1
KLAWATTI_ICECAP1
KLAWATTI_ICECAP1
KLAWATTI_ICECAP1
KLAWATTI_ICECAP1
KLAWATTI_ICECAP1
KLAWATTI_ICECAP1
KLAWATTI_ICECAP1
KLAWATTI_ICECAP1
KLAWATTI_ICECAP1
KLAWATTI_ICECAP1
KLAWATTI_ICECAP1
KLAWATTI_ICECAP1
KLAWATTI_ICECAP1
KLAWATTI_ICECAP1
KLAWATTI_ICECAP1
KLAWATTI_ICECAP1
KLAWATTI_ICECAP1
KLAWATTI_ICECAP1