Luna Peak - Southwest Ridge, July/August 2005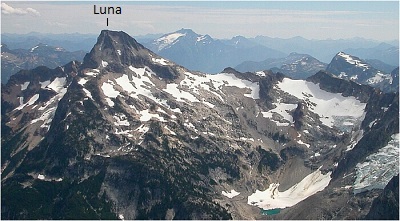 So, here I sit at Prost!, working on my second Spaten Pils, trying to come up with something creative to say. Oops, here comes my third one. I'm sitting here thinking, just starting to unwind after a long day in the office. Maybe I should have been climbing instead of working, eh? As if the life of a cube-rat was that simple. Ok ok, back to my report. Let me pry myself away from my bier first! Hmm, where do I begin?
Ok, here goes: Not two days after recovering from our Ptarmigan Traverse, Eric and I set out for, um...an adventure in the Picket Range. Yea, our highly anticipated adventure in the Pickets - Luna Peak and Mt. Fury. Now, never mind the fact that we were supposed to spend two weeks in the Canadian Rockies this summer. I can't say that they've exactly had a summer up there this year. And furthermore, I'm certainly not prepared to blow my hard-earned vacation time confined to a tent, waiting out some blizzard at 10k ft, wishing I was at home sipping margaritas. So with that said, we decided to stay local. There's certainly more than enough around here to keep ourselves busy. What to do, what to do? Hey, it was about time we went for Luna and Fury, eh Eric? But wait; now I have to take a leak. (
more...
)
Click
here
to view photos.