Mount Maude and Seven Fingered Jack - South Shoulder/South Slope, July 2001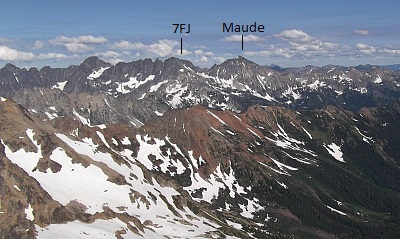 Ben was arriving from San Diego on Saturday morning to escape the temporarily lousy surf down there and spend a weekend climbing in The Cascades. The weather forecast on the west side was once again not too promising, so we headed east in search of drier weather. Getting to the trailhead was relatively uneventful, excluding the fact that I got pulled over for speeding on the Chiwawa Loop Road and was for the first (and probably only) time in my life given a written warning. A good omen!
We got to the trailhead around 2:00pm and were greeted by the Eastern Washington warmth, a comfortable breeze and sweeping parking area views. Hiking in to camp, we made several creek crossings, the biggest of which was Leroy Creek. We turned uphill and kicked dirt up a steep dusty trail through the forest. Seven Fingered Jack could be seen just as the trail leveled out. We reached the Leroy Creek basin and found that the better camp sites were already occupied. Continuing higher, we encountered the first snow at a level bench. We dug out a flat spot and set up the tent...then dinner, some whiskey and we called it a night. (
more...
)
Click
here
to view photos.