Mount Maude - North Face, June 2005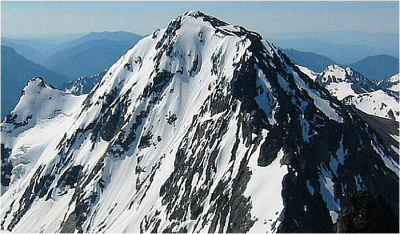 Wow, it's been a long time since I posted something new here, and by the soreness in my thighs it's obviously been a long time since I've climbed a mountain. This Spring has been good for little more than reliably soggy weekends and the over-consumption of beer. Add to that, weddings, surgery (not mine), low motivation, and just like that the few weekend days of acceptable climbing weather we've had this spring, simply passed me by. Occasional cragging trips (Leavenworth and Mt. Eerie) helped satisfy the itch somewhat, but, with the backcountry touring season at a premature end this year, at least as far as I was concerned, I reluctantly traded in my skis for crampons. It would be about a month before those crampons actually touched snow... On June 19, along with an all-star cast consisting of Andy Ball, Andy Johnson and Eric Hoffman, a much-anticipated climb of Maude's North Face finally came to fruition.
Leaving our trailhead bivy around 6:00am, we made good time hiking the flat Phelps Creek Trail. We crossed Leroy Creek in about 3 miles and turned uphill for the steep grind to Leroy Creek Basin, reaching the campsites in about 2 hours. We followed the trail (Carne Mountain High Route) as it traverses right beneath cliff bands in the upper basin. We left the trail after a small stream crossing and booted up a steep heather slope to reach the bench above. We donned our crampons just above this bench and continued up on firm snow to reach the Seven Fingered Jack - Mount Maude Col.
After a short break, we roped up (2 parties of 2) and began the short (100'), but steep descent onto the snowy bench the marks the beginning of tedious traverse towards Maude's North Face. In the early season conditions we encountered, the traverse can best be characterized as a royal pain in the ass. Endless wallowing in loose, wet snow, and much face-in down climbing eventually saw us atop a final steep (60-degree?) snow descent beneath a rock overhang. In total, we had lost about 400 feet from our high point at the col.
Now finally on the North Face, Andy B. and I lazily followed Eric and Andy J's post-hole tracks up to a small rock outcrop where we all took a much-needed rest. After the break, Eric and Andy J. continued up the remaining 800 feet on the right side of the face (beneath cliff bands) so as to minimize exposure to a large cornice perched directly above the obvious (central) line of ascent. With a brief leftward traverse beneath this cornice, Eric and Andy J. quickly booted up the final headwall pitch (50 - 55 degrees) to gain the South Ridge. Shortly thereafter, Andy B. and I found ourselves up-close and personal with the cornice, booting across that exposed traverse as fast as legs and lungs would allow.
The cornice was incredibly overhung and its collapse seemed imminent. Then, as if the mountain was reading my mind, a smaller cornice at far right collapsed and slid down over our tracks from earlier. This REALLY helped motivate the final sprint to the top of the headwall. Reaching the South Ridge, Andy B. and I breathed a collective sigh of relief. After removing harnesses, crampons etc, we made the final easy walk to the summit. In the company of thousands of sun baking ladybugs, we lounged and basked in the sun for the better part of an hour.
At about 3:30pm we started down the broad and gentle South Ridge, then turning right where the ridge levels off, we glissaded down a large snow patch on the West Face. Below the snow patch, we paralleled a stream down scree and choss and ducked right into scrub evergreens and brush just before the stream falls over cliffs. A short thrash saw us to a snow and talus slope above the Carne Mountain High Route trail. From there, we descended back to Phelps Creek, reaching the trailhead around 7:00pm (13 hours round-trip).
Click
here
to view photos.