Middle Sister - North Ridge, June 2008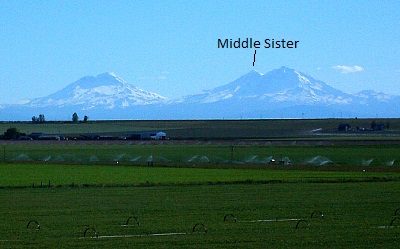 It's been several years since Aaron and I last saw each other, let alone climbed together. A lot has changed since our Mt. Buckner climb back in 2002, but at my suggestion to climb and ski the Three Sisters, Aaron was still his usual self - always up for a challenge, no matter how ambitious. With an invitation to stay at his house in Bend, I loaded up the car and left Seattle at noon on an overcast Friday. An interminable drive south to Portland, then along hwy26 through Gresham and Government Camp finally reaching hwy97 for the final leg to Bend, saw me at Aaron and Amy's doorstep a fair bit later than I had hoped (97 via I90 appears to be the better way to go).
We caught up on old times for a bit before us both driving over towards the Mt. Bachelor ski area to drop a car (the highway was still unplowed and gated shortly after the ski area). With an approach via Pole Creek, our itinerary for the next few days called for bagging the Ugly (North) and Middle Sister the first day, then camping in the large basin between the Middle and the Big (South) Sisters and finishing up on the South and reaching the car parked near Mt. Bachelor on the following day. I would also have to drive back home on this day. After some careful scrutiny of the mileage and time we had available, however we opted to omit the more technical North Sister and thereby save ourselves from having to schlep the requisite technical gear up and over the remaining peaks. (
more...
)
Click
here
to view photos.