Mount Sir Donald - Northwest Ridge, August 2006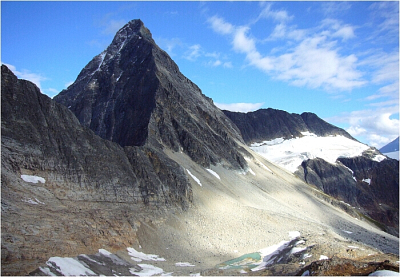 Eric and I first attempted Sir Donald's Northwest Ridge in August of 2004 (report here). This time around we found the ridge to be a real hoot to climb - incredibly exposed, but totally solid and moderate simul-climbing up until we hit snow and slippery rock below the summit (near where the ledge bypass starts). Most of the interesting climbing was already behind us and all that remained was a short scramble and final bit of steeper ridge climbing to reach the summit. An English couple we met at camp the previous evening (we watched them rappel the slabs and stumble back to camp around 6pm) indicated that there was over a foot of fresh snow and some verglass shortly above our turn-around point. We briefly considered taking the south-facing bypass to the summit, but with verglass coating the rocks and otherwise loose down-sloping scree ledges between us and whatever leads up to the summit, we decided to play it safe and turned back. As of this writing, I understand the upper-mountain completely dried-out again and a number of parties have successfully climbed the ridge in its entirety...cest la vie!
On that note, we shared the route with a party of four from Quebec. They did an admirable job of soloing what I consider the most intimidating portion of the ridge. Then catching us at the top of the rappel slabs, Francois informed us "if you let our party of four pass we'll show you the way." We let them pass; quietly chuckling to ourselves, but then passed them ourselves only moments later as they went off route and got stymied by difficult climbing. So much for showing us the way! (
more...
)
Click
here
to view photos.