Mount Terror - West Ridge, July 2006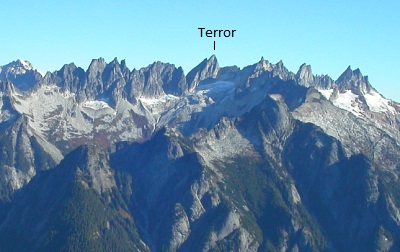 For those of us reluctant to commit to Terror's classic 2500-ft North Buttress, a route considered by many to be much more difficult than "class 4 with some mid-fifth-class rock" (per Jim Nelson in his Selected Climbs book), there is the "simplistic" West Ridge. Guarded by the most heinous of gullies, the West Ridge entails mostly 3rd and 4th-class scrambling on occasionally loose rock typical of the range. While the climbing itself is easy and the aesthetics are somewhat diminished thanks to the aforementioned gully, the excellent position and setting make this a worthwhile (and attainable) outing, reaching the summit of the tallest peak in the Southern Pickets.
Hoping to avoid most of the "Extreme Heat" warning that NOAA was forecasting for the following day, Eric and I planned on a Friday night trailhead bivy and early morning start. Arriving at the ranger station in Marblemount, we were surprised to find that two parties heading into the Southern Pickets had already signed in. Both were heading for the West Ridge of Mount Terror. There was also another party signing in when we arrived - they were heading for Inspiration Peak and so would also be leaving from the Goodell Creek trailhead. While I was backing Eric into a spot (near the end of Goodell Creek Road), a particularly aggressive (and intoxicated) group of three approached. Acting on behalf of the current occupants of the nearby group camp, they made it abundantly clear to us that we were not welcome. Rather than risk an escalation of tensions to the point of confrontation, Eric and I felt it wise to let the assholes have their way and so we reluctantly retreated, parking several hundred yards up the road at the alternate Goodell Creek trailhead/pullout. Unfortunately, the grief didn't end there... (
more...
)
Click
here
to view photos.