Tower Mountain - West Gully, July 2009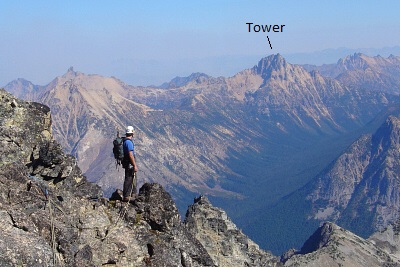 Having worn my last pair of mountaineering boots well past their prime, I found myself frantically searching for a new pair. REI's internet-only Garmont Tower GTX boot sale presented an offer I could not refuse; an offer made even better by putting my REI dividend towards the purchase. With the great price and better than expected fit, it seemed only fitting that the maiden voyage for these boots would be Tower Mountain itself. As seen from many summits in the Washington Pass area, Tower Mountain presents itself as a slanting rock fin rising abruptly from the undulating terrain at the southern edge of the Pasayten Wilderness. Ever since I first laid eyes on the peak in 2002 from the top of Liberty Bell, Tower has held my imagination and curiosity. I however always seemed to have had greater climbing priorities; that is until now. My 'thing' these days seems to be day-trip scrambles from Seattle (lame I know, but at least I'm not claiming some FKT nonsense). Armed with the Swamp Creek approach beta and a good estimate on how much time the approach and climb should take, I managed to convince Eli into joining me on this seemingly masochistic enterprise.
We left Seattle around 5:30am, but with all the usual stops didn't arrive at the large pull-out opposite Swamp Creek until a bit after 8:30am. We took our time getting ready and finally started hiking at 9:00am. We dove into the forest south of Swamp Creek, keeping the creek continuously within earshot at left. This cross-country route saves about 7 miles of hiking along a trail (PCT), but serves up a tasty buffet of brush, marsh and blow-down instead. Pick your poison. Just when we were beginning to wonder if the alternate trail approach wouldn't have been better, we popped out onto the meadows near the head of the valley and glimpsed our first views of the objective. Duly inspired, we crossed over to the north side of Swamp Creek and continued thrashing through meadow and short swaths of forest before making a long angling traverse up into a picturesque alpine basin below the southwest side of the peak and due west of Methow Pass. We first encountered the PCT here in the basin and there was evidence that people had camped in the vicinity - about 3 hours from the car to here.
Concerned about the time and not wanting to risk hiking out Swamp Creek in the dark, we decided to forego the Southwest Gully/South Ridge route with its wild 5.6-slab/dihedral pitch (the initial draw for me to climb the peak no less), for the faster West Gully. The other route was also a bit out of the way for us and to futz around with a rope and gear for just one pitch seemed a little much. The West Gully it is then! Hiking through a short patch of scrub evergreens immediately beyond the basin, we continued up a snowfield into the large talus basin below the West Gully. Gaining a prominent ledge at the left edge of the basin's apex, we traversed right (south) towards the mouth of the gully, passing an enormous cave along the way (as seen in photpgraph).
Scratching up wet boilerplate in a moat low in the gully, we proceeded to suffer up an insecure slab pitch before escaping to easier terrain at right. More discriminating eyes will look right and notice cairns which lead up easy ramps and ledges of broken rock most of the way up the gully. Taking a more direct line (largely out of ignorance), we proceeded upwards on class 3 - 4 slabs. Save for the pebbles strewn everywhere, the rock here was actually quite solid and so long as one occasionally wiped a foothold clean the scrambling was...er, um...enjoyable(?). Only one unavoidable pitch of steeper slab climbing got our attention, particularly on the way back down. This just wasn't a spot where one could afford to slip...fortunately the Tower GTX's performed admirably in this terrain!
There was some loose rock and scree up higher and we sent more than one volley down the gully from here (beware party inflicted rock fall). After a brief foray on steep, licheny ledges below a headwall at right, I decided we were off-route and explored our options off to the left. Sure enough, a cairn beckoned me up the gut of the gully directly beneath an imposing headwall with two obvious white streaks. Turning right at the top of the gully, we scrambled onto a broad class-2 ledge. A little more zigzagging up ramps and ledges saw us to a sharp notch with a precipitous drop down to the peak's northeast basin on the other side. Given how tall and steep the rock face is overlooking this basin; I would have expected some sort of glacier clinging to life at the foot of the mountain. I wonder if anyone's attempted to climb this face for that matter. It looks damn near vertical for the entire ~1300-ft height. A final bit of enjoyable scrambling over large licheny blocks saw us to the summit with its giant cairn. It was a beautiful day up top, much cooler than the forecast for 90-degree temps would have had me believe.
The views are really quite good from up there, particularly looking south towards Eldorado Peak (as seen in distance at center). Mount Hardy in foreground, Mount Logan at left and Mesahchie Peak right of Eldorado Peak. I wasn't so enamored with the Lago - Carru group up north, but who knows...I may find myself wandering around there someday. Looking down the Swamp Creek Valley, it seemed like we had come such a long way - and had an equally long way left to go on the return. We could see the PCT follow the ridge crest on the north side of the valley all the way to Methow Pass. The temptation was too much to resist-we decided that we'd take the trail and then make a descending traverse from Methow Pass into Swamp Creek and so doing shave some time on the hike back out.
Time was ticking, so we didn't dawdle on the summit for long. The descent down the West Gully went without incident and we soon found ourselves back in the aforementioned alpine basin. From there, we followed the PCT most of the way towards Methow Pass. Much to our chagrin, the trail climbs and switchbacks a fair bit more than we had anticipated. The slope down into Swamp Creek at this point also looked unnecessarily tedious thanks to it being steeper and rockier than we were expecting. With only a few hours of daylight remaining, it seemed unwise to experiment with this unknown descent route, and so we turned around and hiked back the way we came. Turning off the trail at roughly the same spot where we first encountered it on the hike in, we made good time descending to the valley floor. We crossed the creek a few moments later and started thrashing back to the road. Just as I began to wonder if we would make it out of the forest before dark, I heard the roar of a Harley Davidson cruising along hwy 20. We exited the trees about 10 minutes later at the exact same spot we entered a mere eleven-and-a-half hours earlier.
I noticed a small forest fire burning on the slopes above Panther Creek on the drive home. Back in Marblemount, it was obvious that thunderclouds were building from the west and I barely managed to keep the car on the road so distracted I was by the wild lightning show over Arlington. With how dry it's been lately (seriously, has it even rained since mid-May?), it won't take much more than a couple well-targeted strikes to get our fire season in full swing! Coincidentally, I'm now reminded of another one of those enduring images I have in my head of Tower Mountain-an immense plume of smoke rising from the Needle Creek Fire seemingly directly behind the mountain back in September of 2003. We topped out on the summit of Cutthroat Peak to see this! That was a bad summer for fires as I recall. Fingers crossed we don't have an encore!
Click
here
to view photos.