Tower Mountain - West Gully, July 2009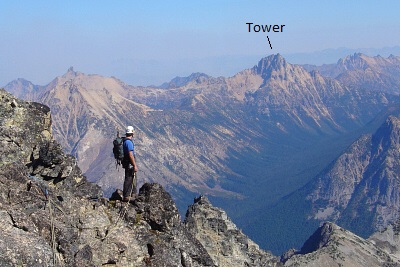 Having worn my last pair of mountaineering boots well past their prime, I found myself frantically searching for a new pair. REI's internet-only Garmont Tower GTX boot sale presented an offer I could not refuse; an offer made even better by putting my REI dividend towards the purchase. With the great price and better than expected fit, it seemed only fitting that the maiden voyage for these boots would be Tower Mountain itself. As seen from many summits in the Washington Pass area, Tower Mountain presents itself as a slanting rock fin rising abruptly from the undulating terrain at the southern edge of the Pasayten Wilderness. Ever since I first laid eyes on the peak in 2002 from the top of Liberty Bell, Tower has held my imagination and curiosity. I however always seemed to have had greater climbing priorities; that is until now. My 'thing' these days seems to be day-trip scrambles from Seattle (lame I know, but at least I'm not claiming some FKT nonsense). Armed with the Swamp Creek approach beta and a good estimate on how much time the approach and climb should take, I managed to convince Eli into joining me on this seemingly masochistic enterprise.
We left Seattle around 5:30am, but with all the usual stops didn't arrive at the large pull-out opposite Swamp Creek until a bit after 8:30am. We took our time getting ready and finally started hiking at 9:00am. We dove into the forest south of Swamp Creek, keeping the creek continuously within earshot at left. This cross-country route saves about 7 miles of hiking along a trail (PCT), but serves up a tasty buffet of brush, marsh and blow-down instead. Pick your poison. Just when we were beginning to wonder if the alternate trail approach wouldn't have been better, we popped out onto the meadows near the head of the valley and glimpsed our first views of the objective. Duly inspired, we crossed over to the north side of Swamp Creek and continued thrashing through meadow and short swaths of forest before making a long angling traverse up into a picturesque alpine basin below the southwest side of the peak and due west of Methow Pass. We first encountered the PCT here in the basin and there was evidence that people had camped in the vicinity - about 3 hours from the car to here. (
more...
)
Click
here
to view photos.