Uto Peak - Southwest Ridge, August 2006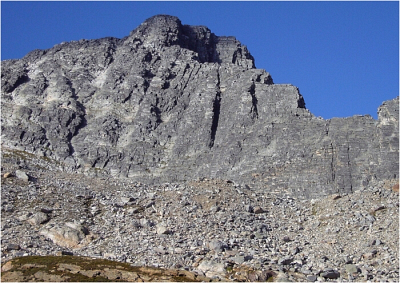 With poor weather forecast for the Mt. Robson area during the first-half of our 10-day trip through Southwestern Canada, we made a course correction for Rogers Pass with the intention of redeeming ourselves on Sir Donald's Northwest Ridge. Despite marginal, albeit inaccurate weather forecasts (this time better than worse), we climbed Uto and 95% of Sir Donald the following day.
Uto's Southwest Ridge was a fine warm-up and introduction to Sir Don. Just some short low-5th steps interspersed with enjoyable sections of 3rd and 4th class sections - a fun, solid and quick afternoon ramble. Opting for the recommended Northwest Ridge descent, we made one steep rappel (class 3 my ass!) then scrambled mostly loose and somewhat exposed 3rd-class terrain to reach a low saddle above camp. If nothing else, this descent offers an excellent perspective on Sir Donald's Northwest Ridge. But, don't look to long for it is very intimidating from that angle!
Click
here
to view photos.