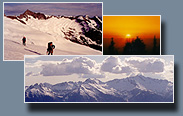 Start
Database
Quick Links
Jump To
---
and welcome!
Sverdina.com is simply a place to share stories, pictures and video clips of experiences made while participating in my favorite recreational activities - snowboarding and mountaineering. Yes, there's also a smattering of other activities in and amongst the content here, but I really do strive to stay true to the theme. In any case, this site is intended as an archive of my experiences in the great outdoors, whatever that may be, preserving the many memorable moments for posterity.
| | |
| --- | --- |
| The photos and tales described herein primarily involve my outdoor endeavors since 1997. It is not my intention to document everything that I do, mind you. Only experiences that by my reckoning are genuinely worth sharing are featured on sverdina.com. | |
| | |
| --- | --- |
| | I do not maintain this website to wax poetic about how much of a hardman I think I am. You will not find anything particularly groundbreaking or especially unique here. I'll be the first to admit that this whole thing smacks of egocentricity, but if it can help inspire others to look up and share in my wonderment of what lies beyond the next ridge or peak, then perhaps it might be worth the vain indulgence of my own web page. |
Be advised that the information presented here is for casual consumption only and should not be used as a formal guide in any way. I obviously cannot guarantee that my reports are all 100% accurate or that conditions will always be the same as I have described them. Always exercise discretion in the mountains and never substitute your own observations and judgement for anecdotal information obtained on the internet.
I won't pass off all images as my own as many were not taken by myself. Some of my reports may be regurgitated from other online sources, but generally I always ask for permission where appropriate and try to give credit where credit is due.

If you would like to drop me a line, click

here

to send a message via feedback form. If you're nice, I might respond otherwise maybe not so much. ;-)
In addition to the menu buttons above, a good way to find information on this site is by querying my trip report database. This feature enables one to generate a customized list based on criteria which include but are not limited to name, location, season etc. To query this database, click
here
(new full-size window will open).
Alternatively, use the text box below to perform a Google web or image search, but note that the results will only reflect what and when Google last indexed and are therefore not too terribly current. Otherwise click
what's new
above for my most recent updates.
And finally...thanks for visiting and enjoy!