Mount Baker ice cragging, November 2002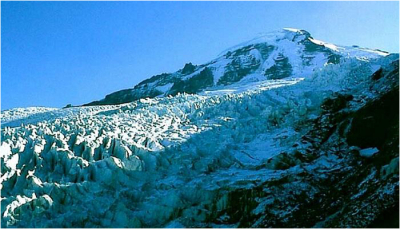 It was time to get out and swing the ice tools again. It was to be a crisp, clear November day; conditions we hoped would be favorable for a day of ice cragging in the Coleman Glacier icefall. Determined not to let the previous evening's Halloween party revelry interfere with my obligations to Scott and our plans for the day, I tried my best to ignore the fact that I was feeling quite hungover. I pulled into Scott's driveway about a half-hour late and made a dash for the toilet as soon as he opened the door. Although it was my turn to drive, I tossed Scott my car keys, curled-up in the passenger seat and writhed in misery for the next couple hours. By the time we reached the town of Glacier I was feeling much better. I had all but forgotten how rotten I had felt earlier as we parked at the trailhead. Scott was clearly impressed by my ability to "bounce back".
From the trailhead we hiked about three miles before reaching the lateral moraine at glacier's edge (ignore right fork in trail). We could see a sizable party at the base of a large serac. We hiked uphill briefly before locating a trail that led out onto the glacier's edge. We walked out onto the glacier, noting several smaller parties dispersed throughout the icefall. I soon located a serac that appeared easy to top-rope. The vertical serac wall featured hard glacier ice that bulged near the top. Tool placement was difficult; a light throw would cause the axe to bounce off whereas a hard throw would usually result in a large dinner plate falling off. We both struggled up the wall and decided to look around for something slightly less ambitious to climb. (
more...
)
Click
here
to view photos.