Dolomites, Winter 11/12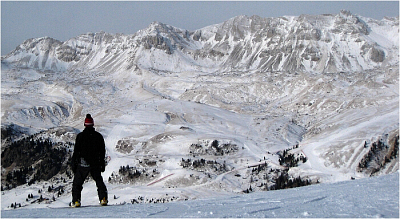 Off to Italy again for our biennial holiday in the Dolomites. Thankfully no travel drama this time although high winds in Amsterdam did cause delays and threatened to make us miss the AMS - SEA connection on our return. Fortunately it wasn't anything a panicked sprint through the terminal couldn't fix and best of all, our bags made it as well!
As in years past, Agata and I again had to content ourselves with 10 days riding groomers comprised almost entirely of man-made snow. Suffice to say that we've had our fill of icy slopes and are looking forward to some deep days in 2012. Not that I'm complaining or anything-10 consecutive days out on the slopes regardless of who or what created it certainly beats most alternatives. And like it or not, the fact that the operator managed to get virtually all of the ~750 miles of runs skiable before Christmas, despite mother nature's lack of cooperation is nothing short of astounding.
In any case, we made the most of our situation and explored as much of the 'ski area' as we possibly could this time. We reconnoitered far and wide from a home base in Canazei and where lifts would not take us we drove. Spectacular scenery, perfect weather, abundant slope-side refugios both rustic and modern with excellent food and drink, and of course bulletproof snow - this is your typical ski holiday in the Dolomites (come in February/March for powder). The only difference now is that the Germans have been replaced by Poles, Russians and Czechs - Europe's nouveau riche it would seem.
We wrapped up our stay a couple days early and did some sightseeing around nearby Lake Garda (Italy's largest) and Verona before boarding the plane in Venice. As always, it is a privilege to spend the holidays in the Dolomites with family, and once again I find myself scheming on how to go about relocating here. But anyway, about that La Nina...
Click
here
to view photos.