Dome Peak - Dome Glacier, September 2002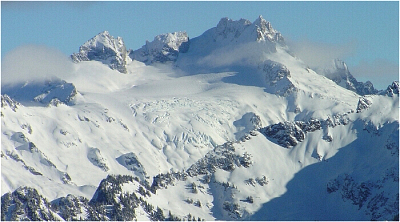 Dome Peak is remote, majestic and situated in an area of the Cascades where I have spent comparatively little time climbing. Offering little in the way of technical difficulties, the journey out to Dome Peak takes the climber through rare old-growth forests, along lakes stocked with fish and through scenic subalpine meadows. Tales of nightmarish bushwhacking through the brush along Bachelor Creek, difficult creek crossings and route finding difficulties are largely exaggerated and should not deter those that want to climb this desirable peak. Together with Tom and Paul, I drove out onto the Suiattle River Road, passing through lovely clear-cuts on our way to the Downey Creek trailhead. We arrived at the trailhead sometime in the evening and opted to make the easy 6 mile approach to the campsites at Six Mile that night. Paul signed us in the trail register as Tom noted a wasp nest directly overhead. This would come to haunt us on our return, but more on that later. Soon we were hiking in the darkness and our pace slowed considerably. At around 11:00pm, after a creek crossing in which Tom narrowly escaped an unintentional swim, we reached the camp site and crawled into our bivy sacks for some sleep. We awoke that morning to find ourselves camped out next to a couple that Paul knew, Jim and Gail Jung. We would make the approach out from camp together.
The Bachelor Creek Trail eventually emerges from the forest and heads into brush (beware of bee and wasp nests). However, we found the trail through the brush to be easily navigable. Having been warned of the horribly overgrown trail conditions after the creek crossing (claims proven to be unfounded), we took a left trail spur that headed back into forest. We traveled over cross-country terrain, making a gradual ascending traverse until we once again located the Bachelor Creek Trail. The trail led us towards the end of the Bachelor Creek valley, at which point we discovered that the trail and a significant portion of forest had been mowed down by a massive avalanche. I couldn't help thinking about the similar destruction I had seen heading up to Boston Basin earlier this season. We picked our way up the right side of the avalanche debris (packed snow still underfoot), cutting left into the upper avalanche zone to bypass some cliffs. Soon thereafter we once again were able to relocate the trail.
We took a brief rest in the mosquito-infested meadows and continued on our way to Cub Lake Pass. From Cub Lake Pass we could look down upon Cub and Itswoot Lakes. We also had our first view of Dome Peak. We bid farewell to Paul's friends (Cub Lake was their destination) and continued on our way. We set up camp at Itswoot Ridge and prepared dinner. We would later be visited by Eric, having returned from the summit of Dome Peak and whom we had seen hiking through the Six Mile camp earlier that morning. He shared our concerns regarding the weather. We went to sleep shortly after finishing off what was left of the whiskey and awoke a few short hours later to the pitter-patter of rain drops falling on our bivy sacks. We slept in that morning hoping the weather would improve. Eric packed up during a lull in the rain and wished us well before heading back down from Itswoot Ridge.
Another party of three that Paul also knew emerged from the whiteout that morning. They had spent the night on the glacier, after having reached the summit of Dome Peak. They had hoped for favorable weather in order to attempt the North Face of Sinister Peak. They too wished us well before returning back down the ridge and we were now certain that we would be alone on the mountain. Eventually the rain stopped and we sat up after spending over 15 hours in our bivy sacks. These weren't exactly the conditions we had hoped for but we decided to go for it just the same. We traversed below Itswoot Ridge towards the glacier and followed what foot steps we could see up towards the upper portion of the glacier. There was some confusion as to which snow finger would provide access to the upper glacier, but fortunately, momentary breaks in the clouds provided the visibility needed to ensure we were headed in the right direction.
We reached the upper glacier flats and climbed up towards the col just left of Dome Peak's main summit. We crossed over the rocky col and continued ascending snow on the north side of the peak until reaching an exposed summit ridge. Uncertain of where the actual summit was, both Paul and Tom explored the summit area for any obvious signs. After some disagreement between Tom and Paul as to where the actual summit really was, Tom stayed behind, while I belayed Paul as he explored the exposed summit ridge. It didn't take him long to locate the true summit and the summit register.
Paul then belayed me up the final summit block and I too made an entry in the summit register. Finally, after a long and strenuous approach we were rewarded with zero visibility and a cold wind. We had been robbed the spectacular views from Dome's summit, but at least we made it unscathed. We'll have to return this way to climb Sinister Peak one day and hopefully will have better visibility then. We returned back to our camp and crawled into our bivy sacks for one more night on the ridge. Our 11-ish mile trek back to the trailhead that following day was highlighted by salmonberry treats along the Bachelor Creek Trail, wasp stings (Tom and Paul) and a sprained ankle (myself)...Jesus, who did we piss off?
Click
here
to view photos.