Granite Peak - South Face (via East Ridge), July 2011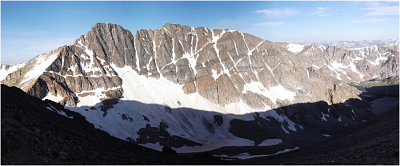 Recalling the good 'ol days of road trips past, I set forth to explore the Beartooth and Wind River mountain ranges. Specifically, I took a week off to bag the Montana and Wyoming state highpoints - Granite Peak and Gannett Peak. Each being well over 12,000ft in elevation, these oft-visited summits offer sweeping vistas over some of the more scenic mountainous areas of the lower 48 states. Granite was first on my peakbagging agenda. Considered one of the most difficult highpoints in the lower 48 states. Granite's standard route involves a somewhat strenuous 10 - 12 mile approach with about 6300ft of total gain to reach the summit. The climb itself entails mostly class 3 and 4 scrambling with moderate exposure.
After about 14 or so hours of driving, I left the interstate at Columbus, MT proceeding along county and gravel roads to finally reach the Mystic Lake Trailhead. Hiking in to a comfortable camp just below the infamous Froze to Death Plateau that afternoon, I braced myself for a night of wind and rain (the first of many on this trip), feeling none too optimistic about the prospects for the next day. The trail officially begins up the road about 200 yards beyond the normal parking area. It is reached by walking through the Montana Power Company facilities where the trailhead is clearly marked with a Forest Service sign. Unfortunately for me however, the road was barricaded at Mystic Lake parking area due to a "washout" most 2wd vehicles would be able to drive past. This added about 1.5 to 2 additional miles to the approach.
A single penstock delivers water to the powerhouse below Mystic Lake. Mystic Lake Dam is a two-unit hydroelectric plant on the West Rosebud Creek. Each unit has a total generating capacity of 12 megawatts. Mystic Lake is the largest lake in the Beartooths, covering more than 430 acres. It is apparently a natural lake despite the fact that Mystic Dam at its east end. From the dam overlook, I descended down to Mystic Lake and continued hiking for a half mile until reaching the junction with the Phantom Creek Trail (at left). I followed this trail up through switchbacks until reaching the first suitable camp area at about timberline yet still below Froze To Death Plateau proper. Navigation across the plateau is probably very difficult with poor visibility, which fortunately was not the case for me. The basic route leads southwest from the saddle between Froze-to-Death and Prairie View Mountains. Taking the obvious talus gully up from near where the trail crosses it below the plateau also saves over a mile of additional trail hiking. Although the plateau is relatively level, there is plenty of uneven walking over glacial moraine interspersed with paddocks of grass, countless tedious watercourses and slogging across snowfields.
Keeping the largest of the numerous cairns closely to my right (downhill) side, I made quick progress reaching the broad talus slopes beneath Tempest Mountain. The route goes up the obvious snowfield left of center to a feature named Snow Bridge before traversing out left onto the South Face (hidden). . Cross over the Snow Bridge feature, then take a series of ramps and chimneys left of the crest to an obvious notch. There will be a chimney fork near the top with the right branch leading to decidedly more difficult terrain. Best to follow the path of least resistance and stay left. Looking up at the aforementioned chimney with notch, I crossed a broad gully and ascended another chimney feature to gain the next rib. While some reports I have read allege up to 5.7 climbing here, I can assure you that there's an easier way. As usual, simply follow your nose on the path of least resistance, and when the rock pitches up and seems to get more difficult work left on a ramp to a large, ledgy and slabby gully. Some 4th-class scrambling with a short, exposed traverse move back right brought me back to easier scrambling terrain. Fun scrambling on excellent rock saw me to the summit a short time later. There was a party of two college-aged fellas up top on break from their summer jobs in nearby Yellowstone. Not a bad summer gig, eh?
Sharing the descent with the twosome I had met on the summit, we retraced our steps back to the talus slopes below Tempest. Recalling a story of a recent goring by mountain goats, we made sure to give this group of goats a wide berth on our way back. I limped back to camp surprised at how worn out I was feeling and how much my feet were aching. The fact that I am on the verge of losing a couple toenails as I write these words probably goes a long way to explain the foot pain I was experiencing. Rather than hike out that afternoon, I decided to camp another night and, yes have the honor of enduring yet another thunderstorm blowing through the area. But at least down here I was somewhat sheltered by trees and out of the clouds, and I slept well that night knowing that the more difficult of my two objectives on this trip was now behind me.
Click
here
to view photos.