Mount Saint Helens - Monitor Ridge, May 2001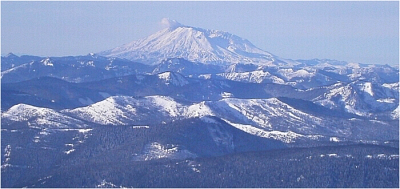 On a rainy Spring Saturday many moons ago, Christopher and Sergio went to climb Mount Saint Helens. Upon arriving at the base camp parking lot, everyone was sleeping soundly and summit dreams filled their heads...until the two Cougars arrived. Cats don't like rain, so the two sat in the car and drank and listened to Neil Young by candlelight. After about an hour of the music and smoke billowing from the car window, the two Cougs stumbled out to put up their tent. It was 2 am and soon afterwards came the awakened climbers to bitch for making so much noise. The next morning as the two hooligans were nursing their last brain cells, the climbers from earlier that night came over to the tent and bitched some more. Laughing like children, the "Rose-Man" and his partner in crime finally threatened to take away their REI membership cards if they did not leave. The gathering crowd eventually dispersed without incident.
With Chris staggering somewhere behind me, I made a valiant effort to reach the top via Worm Flows. Thanks to the heavy snowfall and thick clouds, I turned back just shy of the summit. I had a long, sticky ride back down and found Chris passed out in the car. It was an interesting weekend to say the least. A year or two later, I decided to re-visit Mount St. Helens. Unlike the previous attempt, this time I approached via Climber's Bivouac. The road was still snowed-in 3 miles before the parking lot and parked vehicles already clogged the side of the road when I arrived. It looked like it would be a busy day on the mountain. (
more...
)
Click
here
to view photos.