Mount Logan - Douglas Glacier, June 2006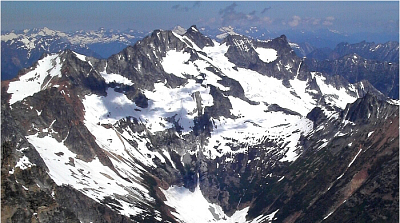 Mount Logan is a large, important massif situated in the heart of the North Cascades National Park. Easily seen from such places as Eldorado Peak, Black Peak and Mount Goode (to name a few), Logan's presence is hard to miss or ignore. At just over 9000 feet, the peak is also among the elite few non-volcanic "nine-thousanders" in Washington State. Draped on all sides by relatively large glaciers (Freemont, Banded and Douglas), Logan offers numerous routes with varying aesthetic qualities and approach considerations. For us, the decision to climb the Douglas Glacier was an easy one - the approach is perhaps the shortest, albeit without a trail for the thrash up the valley draining the Douglas.
Jeff, Paul and myself, met up on a Saturday morning in late June and drove to the Marblemount Ranger Station to sign in. We reached the Easy Pass Trailhead around 11:00am - there was only one other car there. The temperature was already bordering on being uncomfotably warm, knowing full-well that it was only going to get hotter. After dividing up gear and going though the usual pre-climb motions, we shouldered packs and headed up the trail. Hiking up towards Easy Pass was uneventful aside from a creek crossing on a long, narrow, slippery log to help make the otherwise monotonous slog interesting. Snow on the trail started about two miles in, but was firm underfoot making travel easy - we made the pass in about 2 hours, 20 minutes. The Fisher Creek side of the pass was devoid of snow and subject to the full intensity of the afternoon sun, but offered unobstructed views of our objective along with the other peaks of the area. Descending into the valley, we encountered two familiar climbers and their four-legged companion at the junction of Fisher Creek. They were out for Mesahchie Peak and possibly Katsuk.
Heading down Fisher Creek Valley into the trees was a pleasant and casual affair. Along the way we saw a black bear and a number of piles from him or his friends. About four miles down the valley (around 4000') we came to the confluence of where the creek draining Logan's Douglas Glacier meets Fisher Creek. We crossed the latter on a log into open old growth trees. We stayed to the left (east) of this creek encountering a buffet of brushy travel, some good and some bad. At about a mile from Fisher Creek, we were quite amazed (and pleased) to discover a huge avalanche had laid waste to the terrain and annihilated any brush that would have hampered us. This must have reduced our approach time by two hours or more. Dare I say this destruction has rendered Logan a long but reasonable 2-day climb?
Finally, in roughly 6.5 hours we entered the upper basin below the Douglas Glacier and set up camp for the next two nights. The basin's headwall amphitheater must contain at least twenty waterfalls coming down rock slabs below the glacier and snowfields. This offered plenty to look at but not much peace and quiet. With an early, after-dawn start the following morning, we accessed the foot of the glacier by going up the right side (west) of the cirque. After climbing through the headwall (Class 3) with Paul doing an unnecessary vertical evergreen Class 4 bushwhack, we roped up and set out up the glacier.
We followed a direct line up the glacier, avoiding crevasses as necessary, passing beneath a buttress that concealed the upper portion of glacier leading up to the col between Thunder Peak and the main summit. We encountered soft-snow conditions climbing up a 50-degree headwall up from the col. From there we scrambled class 3 and 4 rock to the summit. The views and weather were spectacular! We had lunch and added our names to the register - it was replaced last year with Blake Herrington's entry at the top (in purple felt tip ink, no less). The ascent from camp to summit took 5 hours and 30 minutes (4,300 ft of gain). Having a lot of time on our hands and not wanting to sit around camp twiddling our thumbs for hours on end, we decided to do a long easterly traverse over to Outpost Peak (7,910 ft - center left in photo) to finish off the day.
Getting there involved traversing on the north side of the ridge on snow, taking full advantage of the shady areas where we could. Hoping to avoid any loss in elevation, we booted up into a small bowl in lieu of skirting the toe of a low buttress. Approaching steep rock beneath the crest, we kicked up a short, steep snow finger to reach the hot, dry, loose, and rocky south side facing Storm King and Mount Goode. We sidehilled just beneath the ridge over to Outpost where we again soaked in the views and plenty of Vitamin D. Not only did this other peak help wile away the day, but it offered us a descent of long sitting glissades down the north side of the basin back to our camp, arriving at 6:30pm and a much desired break from the sun and dinner (and hooch) to sedate our hunger.
Monday morning had us sleeping in until we broke camp and headed out dreading the hot switchbacks up to Easy Pass. We finished the trip with a cooling wash-up in Granite Creek and some fatty burgers at Good Food in Marblemount.
Trip stats: Time to camp and time back to car = 6 1/2 hours, time to summit = 5 1/2 hours, time to Outpost = 5 hours, back to camp = 1 1/2 hours.
Click
here
to view photos.