Mount Shuksan - Fisher Chimneys, August 2002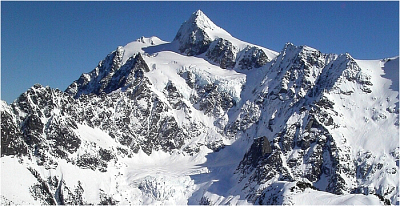 Following a grueling 16hr day on Sherpa Peak the day before, Tom and I left for Mt. Shuksan late in the afternoon for one last attempt on the mountain in what was forecasted, and what we sincerely hoped to be PERFECT WEATHER. We parked at the Austin Pass trailhead this time and quickly made the short 3 mile hike over to Lake Ann. The last few stragglers returning from their trip to the summit were just clearing out as we approached the lake. Before long, we had the entire area to ourselves and looked forward to not having anyone else on the route with us tomorrow. The sun went down, the wind picked up and we got cold. But at least the otherwise relentless mosquitos were kept at bay.
The Fisher Chimneys are really not much more than a series of loose and vegetated class 3 ledges and gullies. The "trail" is quite exposed in places (features such as "Fat Man's Misery" for example) and while caution is obviously required, the route isn't difficult. We easily walked up Winnie's Slide (steep and icy in late season) to a flat area on the glacier and roped up. A cold wind was chilling us to the bone and so we didn't waste any time. We crossed a couple interesting snow bridges early on and had nothing but smooth sailing on our way to Hell's Highway. We could see a guided party of two making their way up the last portion of the Sulphide Glacier to the base of the pyramid. Not so crowded today! A final bit of 3rd and 4th class rock in the main gully before brought us to the summit. (
more...
)
Click
here
to view photos.