Mount Sir Donald - Northwest Ridge, August 2004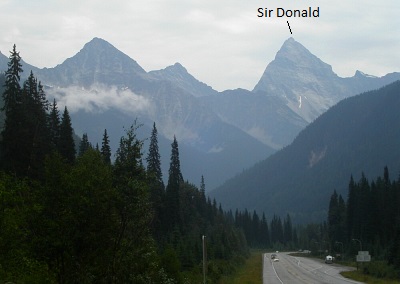 Immediately following our foreshortened visit to The Bugaboos and the subsequent Yoho/Banff Park side-excursion, Eric and I found ourselves motoring west on the Trans-Canada highway. We headed to Rogers Pass located within Glacier National Park. Expecting to scale Mount Sir Donald's classic Northwest Ridge the following day, we hoped the climb would be the grand finale to our first Canadian Rockies trip. Rising abruptly about 6300 feet from the pass, Mount Sir Donald appears as a massive blade of rock thrust up into the sky. Evoking "we're climbing THAT?!" emotions, Sir Donald is probably the crowning glory of Glacier NP, BC's Selkirk Mountains and is also home to one of North America's "Fifty Classic Climbs".
When we arrived, the Rogers Pass Visitors Center, located next to the Best Western, was already closed (closes at 4pm). Nevertheless, the visitor's center is well worth a visit for those not familiar with the area. Aside from registering with the park service, obtaining alpine camping permits and route beta (particularly the newly bolted rappel route), one can browse the various exhibits that showcase the local flora and fauna, and also learn of the pass' colorful history. Not only was Rogers Pass Canada's first serious alpine climbing destination (pioneered by Swiss guides), but, by 1885 it was also the first (and only?) long-sought major rail route forged through the Selkirk Mountains. Competing directly with other east - west rail passages farther south in Washington and California, Rogers Pass was the critical lifeblood linking Canada's West Coast ports to the interior. Notorious for avalanches, grizzly bears, and rotten weather, Rogers Pass is still a very wild and remote place. (
more...
)
Click
here
to view photos.