Mount Sloan (BC) - Northeast Ridge, September 2008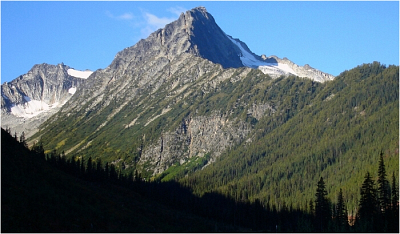 "Hello bear, hello bear" I called out while crashing through the heavy bush. We must be getting really close to Ault Lake or at least the large clear-cut area north of the lake, I recall thinking to myself. Looking down a steep slope above a ravine, I finally got a glimpse of what lay ahead. "What's this I see?" It seemed impossible at the time, but I could see a sliver of Downton Lake and it appeared disturbingly closer than I expected it to be. More importantly, how did we end up with the lake in front of us when it should be to our left? Eli and I had been dutifully following flagging no more than 15 minutes ago. How did we screw this up? My altimeter read 5000-ft - lower than Ault Lake and possibly also below a key logging road that would lead us safely back to the car. We had maybe two hours of daylight left and were in no mood to spend a cold night clinging to a steep, bear infested brush slope.
In contrast, the hike up towards Mount Sloan's Northeast Ridge earlier that morning was much more pleasant. That said, I could have done without the 3 or 4-mile grunt up the Ault Creek Valley forest road (we were stymied by the first water bar only seconds after turning off of Hurley River FSR). We eventually stopped at the bridge over Ault Lake's outlet creek and stopped to check our beta for where to go next. Rather than following the trail towards the lake as per the guidebook, we chose to take a forest road that led away from the peak for a short distance. By doing this, we were able to easily gain the toe of the ridge and avoid the worst of the brush (or so a report on CC.com suggests).
Hiking up Ault Creek Valley forest road. We witnessed two vehicles and a small trailer parked alongside the road. What would one possibly want to tow with a trailer up here? Hmm? We encountered a fair amount of knee-high brush hiking through the forest here, but this would prove to be nothing compared to the route we took on descent. As the craggy ridge began to loom closer, Eli's pace seemed to slow somewhat. We stopped to rest at a large platform just before where the ridge transitions to 3rd and 4-class rock. Eli wasn't feeling well and didn't feel up for the climb. Glancing upwards, I noticed a party of two approaching a prominent tower above. By the time I turned my attention back to Eli, he was already fast asleep.
Hesitant to solo the route, I decided to just "check out" the lower ridge and return. Leaving my backpack behind, I descended from the platform and traversed left into a large, slabby gully. Despite its steep appearance, the rock here made for easy, but enjoyable scrambling. Reaching my turn-around point within minutes, I figured there'd be no harm in going a bit farther and I set my sights on the next target. I avoided a steep wall by traversing left and rounding a small arete. A short 4th-class descent brought me to a large, sandy gully. Following footsteps up loose ground, I exited the gully at right and scrambled up more 3rd and 4th-class rock finishing with a short, but steep pitch to regain the crest. Suddenly finding myself atop the first tower where I spied the twosome from earlier, I was surprised how little time it took me to get here. Looking up the ridge, I could see the other party now nearing the final summit tower. "Ok, ok...I'll just go to the next tower and then stop." An exposed finger traverse on the horizontal ridge crest led to a section of "sidewalk in the sky" after which I descended a ramp on the east side of the crest. Traversing left across a small amphitheater, I climbed back up a short gully to gain a spur that led back up to the ridge. A long pitch of blocky 3rd-class rock then brought me to the top of the second tower. The party ahead hooted and hollered at me from the summit. By this point the temptation was just too much to resist, and besides, I was having too much fun. I'd have a hard time forgiving myself if I turned back now.
Down-climbing steep rock from the second tower, I traversed left across another small amphitheater, crossed over another arete and continued traversing left across a talus funnel below a large snow patch directly beneath the summit. Scrambling up rock on the left side of a small watercourse flowing from the snow patch, I zigzagged up steep ledges on 4th and low-5th rock. A final scramble on blocky rock saw me to a large, flat platform on the summit. The other party was nowhere to be seen, and I just assumed they had descended the standard route. I scrambled over to a nearby highpoint to get a better westward view. Wow! The vast Lillooet Icefield and broad Bridge River Valley with the Dickson Range on the opposite side of the valley really gives a sense of the scale of these mountains. I could identify a few odd peaks listed in McLane's Alpine Select - Sampson, Vayu, Thiassi. There's enough here to keep me occupied for years to come!
Worried that Eli might be concerned about my whereabouts, I allowed myself all of five minutes on the summit. Retracing my route back to the ledges, I noticed the twosome traversing above the snow patch. We exchanged a few words before making haste back across the loose talus funnel. I made it back to the top of the first tower in good time and yelled down to Eli. Having just awoken, I think he thought I was still on my way up. The climb took me less than two hours round-trip from where Eli was resting. Following the ridge back into forest, we easily identified a faded strip of flagging which we blindly assumed would lead us back down to the trail exiting from of Ault Lake. This wasn't the same way we went up, but figured it'd make for a faster descent. Following pink, blue and yellow flagging, we raced down the thick brush, confident that we'd just stumble onto the trail. Yet, when I glimpsed Downton Lake looking down from the top of the ravine I knew we'd taken a wrong turn somewhere.
Our location verified by GPS, we began thrashing east careful not to loose any more elevation. The slope angle eventually eased-off, and flagging mysteriously reappeared. We reached the clear cut shortly thereafter, and quickly located the forest road we had followed earlier that morning. Saved by technology! Hopes of catching a ride back to the car were dashed when we heard what sounded like an ATV motoring away from us. We obviously lost a lot of time wandering around the bush - enough to negate any gains I'd made on the other party while descending the ridge. The idea of using an ATV as an approach aid however warrants some merit. Just imagine the access!
I grabbed the oh-shit handle and dug my fingernails into the side of the seat as Eli rallied his WRX back up to Railroad Pass. Imagine our surprise when we were passed by a minivan going at least 60mph. Eli gave chase, but try as we may there was no way we could keep up. Gotta love BC's forest roads and the maniacs that drive 'em! A few more trips like these, and the WRX will need a suspension overhaul I'm afraid...not to mention a spare tire or two. And yes, the Shell station in Pemberton does carry instant tire repair, but that won't do any good when one can almost stick a finger through the puncture hole!
Click
here
to view photos.