Mount Tantalus - North Ridge, July 2009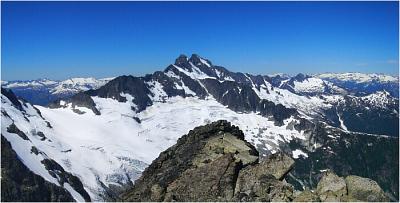 For our third and (probably) final Tantalus Range installment, Eric and I set out to climb the North Ridge of Tantalus Mountain. As before, we prearranged a heli-bump up to our home for the next two nights, this time at a location below the North Ridge proper. As expected, the views from the flight in were spectacular, bringing back fond memories of last summer's climbs of Alpha and Serratus. The short flight took us directly above the impressive Rumbling Glacier. This incredible glacier is so heavily fractured, it almost doesn't seem real. We expected to be dropped off at a luxuriously comfortable camp spot somewhere on a heathery ridge crest at the head of Mawby Creek. So it came as a bit of a surprise when the pilot informed us that he could only drop us off at one of two somewhat uninviting locations. Not exactly an exposed perch, but the col overlooking the northern most margin of the Rumbling Glacier was not exactly what we had in mind.
Fearing the ominous-looking thunderclouds rapidly advancing south along the Sea-to-Sky corridor, Eric and I immediately got to digging out a platform for the tent. As soon as we were done, we were treated to a frightening thunder and lighting show with showers not far behind. Fog then descended on our camp just as I was about to hide in the tent for shelter. Miraculously, the fog and showers lifted moments later revealing a large rainbow and the telltale streaks of heavy rain falling just east of us over Mount Garibaldi and the Squamish River Valley. It seemed the worst was over and the storm had fortunately only grazed us. In speaking with our pilot a couple days later, the downpours in Squamish were among the most intense he's ever seen! (
more...
)
Click
here
to view photos.