Mount Triumph - Northeast Ridge, September 2003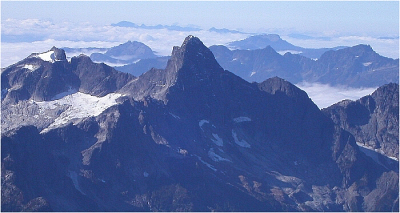 It was potentially the last fair-weather weekend of Autumn and therefore a prime opportunity for a remote yet classic alpine rock climb. Long a sought-after goal of ours, Paul, Eric and I made plans to finally climb Mount Triumph's spectacular Northeast Ridge. We left Seattle around 9:45 and started up the Thornton Lake Trail around 1pm. About 4 miles of easy trail hiking (first two miles being on an overgrown road and therefore bike friendly) brought us to the Thornton Lakes overlook and the first good photo opportunity (the col, our camp and upper third of the Northeast Ridge clearly visible in front of us). The profile of Mount Triumph's Northeast Ridge, even from this distance, made me nervous. But, that would be tomorrow's problem. For now, we had about 500 feet of hard-earned elevation to loose, before having to make it all back up again.
From the overlook, the trail descends 500ft down to the lake, skirting the left edge of the first lake, crossing the outlet between the first and second lake and diving in for a final helping of brush on the right side of the second lake. We hiked another brutally hot 800 feet on grass, talus and scree to bivy sites at the col (barely enough flat-space for my 2-man tent). It was warm that night, but a fierce wind howled through the col and I feared the tent would get blown away with us in it. Consequently, I enjoyed very little sleep, despite the Oxycodone and Canadian Club. We left camp around 6:30 the next morning, after I wolfed down a packet of oatmeal Eric was generous enough to share with me. The glacier has receded significantly and so we traversed low-angle, polished slabs, with only one crossing of hard/icy snow (crampons/axe required). It seemed wise to hurry across the slabs; passing around big blocks of ice that had fallen from above. Getting creamed by one of those blocks would definitely ruin your day! At other end of the basin (45 min from col), we scrambled up a shallow, mostly 3rd class gully (right-trending), then followed ledges of bright red/orange rock and grass back left up to a small notch in the ridge (easier than it looks from afar).
It is probably best to rope at the notch and start climbing straight up the first tower. Alternatively, we chose to bypass the small tower (rap slings on top) and worked left below the notch (and tower), up a short slab pitch to a belay station in an uncomfortably small alcove (we found slings, but they had been intentionally cut). Being a party of 3, we decided to simul-climb as much of route as humanly possible. For safety, we doubled up two 60m ropes. I tied into the middle with Paul on lead. The climbing starts out low - mid 5th, up mediocre rock, heather, some scrub evergreens, but always with limited pro. We worked up a step or two to find bivy sites on the ridge (good for two bivys, maybe three in a pinch). Above the bivy sites, the ridge eases off a bit. Paul began taking us off route (probably because I kept telling him to go right for some dumb reason) and soon found ourselves traversing steep, slippery heather. The poor traction in rock shoes was particularly nerve-wracking. Eric and I pleaded with Paul to go back left where there was rock, yes, grippy rock.
Up ahead, the ridge became steeper to form the next step. It looked intimidating, but the moves were generally quite easy. Pro, however, was still hard to come by and the exposure was becoming increasingly more exhilarating. We continued to follow a series of steep and exposed steps with generally low 5th class climbing, until reaching a mostly horizontal knife-edge. Both feet dangling on either side, shimmying along on our butts with well over 1000ft of air on either side, this knife-edge definitely gets the pucker-factor award of the season! Spooky shit! I did not relish the thought of having to go back across that thing.
After the knife-edge, the ridge became steep again (steepest portion - most difficult climbing), forming the next step. It was my turn to lead, but I was quick to surrender this duty to Paul. Paul valiantly stepped up and continued leading. I belayed Paul until the rope between us ran out just below the crux off-width, at which point I began simul-climbing with Eric belaying the both of us. Paul reached the base of the near vertical, slanting off-width (5.7 according to Nelson's Selected Climbs vol.2) and did not like what he saw. We questioned whether or not this was in fact the off-width mentioned in the guidebook. Paul then proceeded up the off-width, decided against such folly, and worked left to find an easier way around. No luck. He climbed back down a bit, worked to the right of the off-width and traversed carefully to the crest of a minor rib and into a small gully hidden from where Eric and I were standing.
I followed, and climbed up the lower half of the off-width (seen at upper left), enjoying the fun moves until Paul informed me that I "...better not fall, I only have you on a hip belay". A hip belay?! Big chunks of falling glacier could be heard and occasionally seen, rumbling down slabs on either side of the ridge. One chunk definitely passed through where we had walked several hours earlier. Hmm... The next "pitch" ended up being another one of those half-simul, half-belayed affairs. Paul aided off my shoulder (ouch!) to get up a smooth face at the start of the pitch. I followed, managing a reachy mantle move to gain a ledge that wraps around the right side of the ridge leading to a great notch below the summit. We scrambled out of the notch and traversed onto heather ledges on the sunny South Face. One last simul-climbing pitch on crumbly rock and steep heather brought us to just below the summit. We ditched the ropes and scrambled to the true summit, reaching the top around 1pm. Beckey's CAG suggests about 6 hours to reach the summit from the col. We did it in 6.5 hours with 3 people and figured we had done alright.
To say the views were awesome would be an understatement! I placed call from the summit and informed Agata that we *might* have to stay another night...depending on how long the descent would take us. Needless to say, the descent was VERY time consuming. 7 double rope raps, 2 single rope raps and some down climbing got us safely back to the notch. We reached the col just as darkness was descending. There was no way we were hiking out that night! Surprisingly, the descent ended up taking about as long as it took us to climb the route. We didn't have any warm food that night, just some cold scraps for dinner and then we were off to bed. We got going around 9:30am the next morning and hiked back to the trailhead. I would discover later that the rangers apparently called Agata at home, since we hadn't reported back in the night before. Fortunately, I was able to make that call (it's Verizon, by the way).
I scarfed a HUGE 3-ply Mountain Burger at Good Food in Marblemount (a view of Triumph's summit is visible from the order window) and struggled to keep it, and the beer, down for the duration of the drive home. More importantly, I'm happy to have climbed Mount Triumph's Northeast Ridge, even if I didn't lead any of it. It's definitely one of those climbs where you're not altogether happy being on the route, but stoked as hell once you've done it.
Click
here
to view photos.