Wapta Icefields Traverse - Bow Lake to West Louise Lodge, March 2006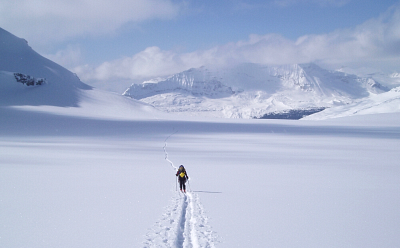 It's traverse season again, and this time without Jerry or Eric, Bo and I were on our own to navigate the Wapta and Waputik Icefields. "Where and what the hell is that", you might be wondering, well, I'm glad you asked! The Wapta Traverse is a hut-to-hut ski tour in the Canadian Rockies. Covering two major ice fields along the Continental Divide between Alberta and British Columbia, the trip usually starts at either Peyto or Bow Lake (we started at Bow Lake) and ends somewhere along the Trans-Canada Highway (either at West Louise Lodge or Kicking Horse Pass near Field, BC). Probably North America's best answer to the world renowned Haute Route in the Swiss Alps, the Wapta and neighboring Bow-Yoho Traverses, with its network of five cozy backcountry huts, offers visitors unparalleled ski terrain, breathtaking scenery and of course the comparatively luxurious comfort of the ACC's fine tradition of backcountry huts. These huts come stocked with padded bunks, outhouse facilities, propane stoves and lighting (fuel is provided), and in the case of Bow hut, also a wood-burning fireplace. Though they aren't free, the $25 - $20CAD/night fee (depending on hut) is a small price to pay for the convenience of a light pack and a roof over one's head...especially when there's a storm is raging outside!
After a short Vancouver - Calgary flight, I hopped on the Banff Airporter shuttle, which I had pre-arranged, for the near 3-hour drive to Banff. While the poor bastard behind me sprawled out on the rear bench and proceeded to writhe and fidget in what smelled to be alcohol-induced misery, I looked out the window upon a bleak and uninspiring scene of flat, foggy, treeless 'tundra' with high density suburban housing spreading out across the prairies like an infestation of termites. I rendezvoused with Bo at Banff's Hidden Ridge condos, where he had been on ski holiday for the week prior with family and friends. Bo must have been skiing like a maniac before my arrival, for when I arrived I found him pale and running a 100+ degree fever. Shit! During dinner that night, Bo's parents did their best to dissuade us from embarking on our silly traverse, but we stuck to it like a bad habit. The fact that I had a GPS seemed to allay some of the worries...never mind the fact that I had no idea how to use it, much less know how to input grid points, but more on that later.
Everyone but Bo and I were returning to Calgary and catching flights to various locations south of the border that next day. As such, we were fortunate to have Bo's brother agree to give us a lift before returning the rental car in Calgary. We first stopped at the Lake Louise hostel where we stuffed unneeded gear into rented storage lockers, then proceeded north on the Icefields Parkway to Num-Ti-Jah Lodge on the shores of Bow Lake. With our gear scattered in the parking area behind the lodge and the Explorer accelerating away from us down the parkway, it occurred to me that at about this time last year the seeds of this trip had been laid. I've waited a long time for this, and with low-to-moderate avalanche danger and a perfectly cloudless sky overhead, it seemed we'd lucked out. "So, Bo, how's that fever?"
The 6-kilometer ascent up to Bow hut was pleasant with exciting new scenery behind every bend. Shortly after crossing the lake, we entered the "Valley of Death" - a rather aesthetic canyon-like feature that's threatened by avalanches releasing on slopes high above. There'd be no worry of that today though. Beyond the canyon, we entered a large basin with an incredible hanging glacier looming high above. Looking up, I was immediately reminded of the dramatic avalanche photo on the cover of Tony Daffern's book on avalanche awareness, Avalanche Safety - it depicts a large avalanche ripping down from a hanging glacier, sending a huge plume of white down on a party skinning far below. I'd always wondered where that shot was taken...now, that wonder was replaced with fear.
Following one of several skin tracks, I scooted under that ice cliff as fast as my legs would allow and ascended the final slope towards the hut. Once there, I emptied my pack and prepared for a quick tour up the Bow Glacier and onto the Wapta Icefield. I relayed my intentions down to Bo, who was making slow but fever-friendly progress up the slope. We agreed to rendezvous in an hour at the top of Bow Glacier and ski back down to the hut together. Though I've read that the Bow Glacier is quite crevassed, particularly late in the season, I didn't see any evidence of crevasses while skinning up. The slope gradually leveled-off to reveal an incomprehensible sea of snow and ice spread out before me. To the west, a large party was returning from Mt. Rhondda South, while a smaller party of two or three appeared to be coming from the Peyto Hut area. Looking south, I could see tracks leading up to the Mt. Olive - Mt. St. Nicholas Col and up the Northwest Shoulder of Mount Gordon.
Did I have time to bag Gordon, allegedly one of the most scenic ascents on the Wapta? I was determined to find out and began the endless slog across the upper-ice field. As I neared the shoulder, however, clouds from the west began spilling over the summit. With peaks off to the west already engulfed in clouds, the weather was obviously beginning to change, and so I made a course correction for Olive - Nic Col. I wasn't about to push my luck and attempt whiteout navigation on my first day on the Wapta...there'd be time for that later. More tedious trail-breaking saw me to the wind-scoured col. A good vantage point from which to view the Wapta Ice fields and 'nearby' peaks - from St. Nic piercing the sky before me to Mount Rhondda, Baker, Thompson and Bow Lake far below. Evidence of a large avalanche on Mount Collie's East Face was also plainly visible. Behind me, the summit of Mount Olive was a relatively short scramble away, but with the wind now picking up and clouds rapidly advancing, I decided to make good on my arrangement with Bo and meet him at the top of the Bow Glacier.
Skinning beneath the sheer cliffs of St. Nic, I stopped at a point where I could begin the descent, de-skinned and assembled the split for the ride down. Bo was nowhere to be seen and I figured he'd decided to just take it easy and stay in the hut. The ~1000ft descent down Bow Glacier was a nice reward for all the day's efforts. Starting out fairly low-angled, then progressively becoming steeper near the middle of the slope (stay skier's right), it was a quick descent on classic Rockies powder all the way to the front door. To my dismay, Bo wasn't at the hut either. Fortunately just as I was preparing to go back up and look for him, he suddenly appeared high on the ski slope above the hut and proceeded to make tracks down the untracked powder. Fever, what fever? Late that afternoon a guided party of nine appeared. Together with the party of five from Calgary that was already in hut when I first arrived, there'd be sixteen of us eating, drinking, sleeping, farting and snoring in unison. Ode to joy. The sun went down, the wind picked-up and the mercury plummeted to about -20C. With a relaxing fire crackling in the fireplace and the sounds and smells of folks preparing dinner, I could have cared less what was going on outside. "So, what's for dinner Bo?" "Tortilla soup" he replied. "Hmm, I wonder if we have enough TP?"
Before going to bed that night, Bo and I discussed plans for the following day. We'd either go for Rhondda South or Gordon if the weather was somewhat decent, and only if Bo was feeling better. A sleepless night, despite my earplugs, gave way to a groggy, overcast morning. Bo decided to take a rest day, and so I teamed-up with 3 guys from the friendly Calgary party for a casual tour back over to Mount Gordon. We barely made it to the top of Bow Glacier before turning back due to the howling wind and poor visibility. Hours later, duped by sucker holes into thinking that the weather was finally improving, I convinced Bo to join me on another attempt at Gordon. We found ourselves about halfway up the Northwest Shoulder when the wind returned with foreboding black clouds swirling about overhead. Looking back, the unmistakable rock face of St. Nic was almost completely obscured by whiteout. Without that feature as a reference point, our little outing would soon turn into a vertigo-inducing exercise in navigation. We decided to retreat while we still could see where we were going.
Back at the hut, we settled into a familiar routine of snacking on summer sausage and drinking whiskey before dinner. After conferring with one of the Yamnuska guides, I finally learned how to interpret the hut Grid References in Chic Scott's Summits and Icefields and enter them into my GPS. In case you're as baffled as I was, here's the lowdown: In Setup->Units set Position Format to UTM/UPS and Map Datum to NAD27 (Canada). Scott's Bow Hut Grid Reference of 355203 is simply a 3-digit representation of the Easting (355) and a 3-digit representation of the Northing (203) lumped together to make a single number. A key piece of information that I lacked, however, is that the 1:50,000 National Topographical Series maps, similar to Murray Toft's Touring the Wapta Icefields, assumes an Easting 'prefix' of 05 and a Northing 'prefix' of 57. Knowing this, the Easting then becomes 0535500. I zero-filled the remaining two spaces to complete the 7-digit number the GPS requires for the Easting (the Grid Reference is sufficiently accurate anyway). Similarly, the Northing then becomes 5720300. Of course, one could just read the Grid References directly off of the map, which I did for key features such as Olive - Nic. Col, Balfour High Col etc.
While toying with the GPS, Bo and I (among others) were interviewed by reporter Trent Edwards of the Calgary Herald, who was participating in the Yamnuska ski-mountaineering course. I found his article here. Though we weren't quoted in the article, it's a good read and well describes the novice's experience on the Wapta. Props for Yamnuska guide Dave Stark - he was really helpful and certainly didn't deserve the torn ankle ligament while descending from Peyto Hut. Anyway, with the GPS business out of the way, Bo and I played a few hands of Gin Rummy, after which Bo engrossed himself in a riveting book on Statistical Analysis Applied to Clinical Trials. The guides had a satellite phone and placed a call that evening to get the latest weather forecast. Now armed with privileged information, we opted to take advantage of the 'cloud and some sun' and make tracks for Balfour Hut the following day. We decided this in lieu of spending the next two nights at Peyto Hut as we'd originally intended.
Skinning up Bow Glacier one final time that next morning, we gave up on Mount Gordon once and for all and instead continued directly on to the Olive - Nic. Col. We again found ourselves in whiteout while traversing towards the Vulture Glacier from the col. A nice descent led to the Vulture's flats, whereupon we aimed for cliffs rimming the eastern edge of the glacier and used it as a 'handrail' as we began searching for Balfour Hut. Suddenly, the hut materialized from out of the fog. After a short slog, we were soon kicking back, sipping whiskey and watching promising patches of blue develop in the skies above. I tried talking Bo into a late afternoon ski on the nearby Diableret Glacier (Little Devil), but he would hear none of it. Cloud would envelop the hut moments later and settle the issue once and for all. Flipping through the hut's logbook that evening, I was surprised at the high failure rate of parties attempting the next portion of the traverse - the Balfour High Col. Being the highest point and also the crux of the traverse, the col is notorious for poor visibility and is not recommended in a whiteout. Optimistic for what the morning would bring, I turned off the Coleman lantern and settled in my sleeping bag for the night.
We awoke to partly sunny skies, with the upper third of Mt. Balfour still lurking in the clouds. All but certain that these conditions were about as good as they'd get for us, we packed up and made tracks for the High Col. Picking a careful line through steep terrain at the glacier's edge, we soon gained gentle slopes of the lower glacier. With Bo breaking trail, we traversed out towards a rock cliff that rises prominently from the middle of the glacier. Approaching the rock cliff, we veered right and ascended a ramp with menacing ice cliffs looming above. This was no place for complacency and so I relieved Bo of his exhausting trail-breaking duties and made haste up the ramp. We skirted around a yawning crevasse near the top and continued up into the fog. Using a rock point that marks the left-edge of the col as a reference point, I carefully navigated to where I'd last seen that feature. If the slope began rolling-off down to the left, I knew we were dangerously close to the cliffy eastern fringes of the glacier. I took a GPS reading just to be sure - it placed the col off to our left, where I knew danger lurked. Cursing, I returned the GPS to my jacket pocket and decided to go on gut instinct instead.
Slogging up low-angled terrain in a complete whiteout, I began making out rock features to our right that would eventually have to give way to the High Col. Moments later, a fortuitous break in the clouds revealed that the col was in fact directly before us. Spirits soared...we'd done it! From the col, we enjoyed momentary glimpses of the Bow River Valley before us, and what looked suspiciously like the striated rock face of Mount Niles. I mistakenly led out due east from the col, rather than southeast as the map suggests, and froze in my tracks only about ten feet from a well concealed ice cliff that seemingly falls away to oblivion. I was immediately reminded of what I had read in Balfour Hut's logbook - a party of guides or park wardens searching for the body of someone that had fallen from a 'large cornice' on Mount Balfour a few years back. The deceased was part of a group of three that set out from Balfour Hut in what they described as total whiteout conditions. Their final entry in the log book, hoping for safe passage, is appended by a more recent addition: The letters R.I.P. are penciled-in next to the name of the victim and serves as an ominous reminder of how horribly wrong things can go in poor visibility.
Tip-toeing back from the brink, Bo and I huddled together and studied the map again. A large, flat glacier descended into the fog below and was rimmed by a corniced rock ridge on its northeast edge. Another quick GPS reading for the Scott Duncan Hut yielded conflicting results - the 'go to' arrow pointed south, then moments later pointed back towards from where we just came. Fuck! As we'd done previously, we decided to go on instinct and continue down the glacier, using the ridge feature as a 'handrail'. As the glacier threatened to roll-off steeply to the left, we veered right (south), trying to follow the widely spaced contours of the Waputik Icefield. Trudging through the featureless gloom in deteriorating visibility and not knowing if we were even going the right way was a surreal experience. Portions of a long rock face would intermittently appear before us...but it didn't look like Mount Daly, where the next hut was located. Just as I was beginning to consider what a night out in a snow cave would be like, the lower half of Daly's Northwest Shoulder materialized from out of the fog. Now straining my eyes, I made out a couple miniscule rectangular shapes that stood out from the surrounding rocks. From aerial photographs included on the back of Murray Toft's map, I knew the Scott Duncan hut had to be on this shoulder; the two rectangular shapes had to be the hut and outhouse respectively.
After an endless slog and some snow excavation to free the door, the hut was finally ours. True to form, the clouds broke late that afternoon, revealing the best views of the trip since our first day at Bow Hut. With cramped quarters, a defective gas lamp and a door that won't stay properly shut, the Scott Duncan Hut is primitive, but only when compared to its luxurious siblings. Washing down dinner with the last of the whiskey, conversation became notably silly - with talk of 'balfourian efforts' and lamenting the fate of the 'poor carcajous', I even proposed going back and tagging the summit of Mount Balfour the next day. Sleep came quickly for me that night...if there was any snoring, I didn't hear it
Morning brought partly sunny skies and a renewed interest in at least getting out on top of something. After some hemming and hawing on my part, I surrendered the notion of summiting Balfour (and staying another night in the hut) in favor of tagging a 'snowy bump' just east of Mount Daly. With expansive views over the Waputik Icefields to the north and Bath Glacier to the south, the short side-trip was well worth the effort. I didn't want to leave that majestic perch, but beer and burgers were calling! With the Scott Duncan hut fading into the distance behind us, we skinned across the Niles Glacier (the last glacier on our traverse) towards the prominent double-col below Mount Niles. From the col, a spectacular scene revealing large peaks around Lake Louise unfolded. A striking Mount Biddle definitely caught my eye, not to mention my imagination. Not wanting to gamble with potential wet-slab action in the decent gully below the left-col, we instead stayed right and took our chances traversing beneath sagging cornices high on Mount Niles. Continuing along a bench, we followed tracks as they weaved rightwards into a drainage. A final descent into trees with hidden cliffs (stay right) and gloppy snow saw us down to the valley floor.
From there, we followed a well-established skin track to and across Sherbrook Lake. Beyond the lake, a few more miles of downward traversing on an icy track through larches ended abruptly at the West Louise Lodge parking area. After a short wait, I scored us a free ride on the West Louise - Lake Louise shuttle bus (primarily intended for LL employees). We spent the remainder of the day and the following day kicking about LL. We had lunch at the LL ski-area lodge (plans for a day of lift skiing were overly ambitious), visited various boutiques in the village mall area and burned he afternoon milling about the fancy chateau in a freak blizzard (good thing we left Scott Duncan hut a day early!). We awoke early in the morning of our last day in Alberta and caught the 7am Brewster bus for Calgary International Airport. Vowing to make more such trips, Bo and I wished each other well and went our separate ways. I did not envy Bo's rather indirect flight plan back to Detroit (via Las Vegas), but then again, he got a good deal on the tickets.
The A321's emergency exit doors made strange thumping noises as Air Canada flight 215 to Vancouver, BC rose into the sky (cabin pressurization?). Nobody seemed to take notice, so I sat back, closed my eyes and reminisced on that magical world of ice I was leaving behind. It all seems so permanent, and yet Global Warming is apparently also taking its toll on the Rockies' icefields. Will anything be left in 50 years time? The predictions paint a bleak outlook, so indeed 'ski (or ride) the glaciers before they all melt' and testify to the fact that they were once there!
Click
here
to view photos.