Whitehorse Mountain - Whitehorse Glacier, June 2006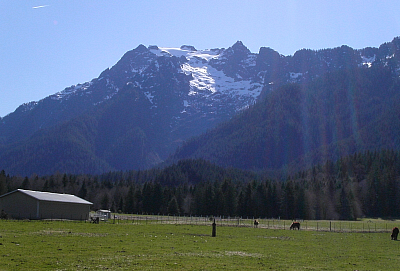 In early June 2006, a mob of seven, including Jeff R, Paul K, Julian S, Martin S, Ed M, Mark S and myself, braved the brush on the approach to Whitehorse Mountain's distinctive north-facing Whitehorse Glacier. Generally better climbed earlier in the Spring (or Winter), on account of snow hopefully still covering most of the brush below the glacier, this year's above average snow pack helped extend the season on this route. Make no mistake, however, the bushwhacking was still what I consider most annoying. Starting with a slippery log crossing, we quickly dove into the brush left of the creek and encountered a bit of everything ranging from Slide Alder, Devils Club, Wild Rose, Salmonberry, ferns, moss and just about everything in between. As if that wasn't bad enough, a navigation screw up while descending forested slopes beneath Lone Tree Pass had me swimming through an impossible sea of Slide Alder in order to re-join my party hiking down the Niederprum Trail back to the cars. Ugh!
In the end, I found this to be a rewarding route with relatively easy climbing on soft snow (we never donned our crampons) and with exciting snow slabs/steps where the seasonal snow pack had peeled away from slabs beneath. There was only one steep snow slope/traverse worth noting, above which a short rock wall and moat topped with the aforementioned snow slab that gave us a bit of difficulty. Beyond that, it was easy slogging to the final bit of exposed rock on the summit tower (crux). This being my second time on Whitehorse (previous report here), I'm quite sure that there aren't any Bulgarian fugitives living on the mountain anymore, I still haven't seen High Ice (filmed on the mountain), and Darrington is still definitely no Chamonix.
Skirting the left edge of the creek, we came upon a small gushing gorge. Now, working left up mossy slabs with bits of steep vegetable pulling, we dove into thick brush. Making an ascending traverse through this portion of the climb, we located a faint path and bits of flagging which Paul took every opportunity to remove. Why? Occasionally encountering short, mossy boulder fields, we scrambled upwards then traversed back right, generally contouring beneath the steep rock lining the left edge of the basin until finally reaching a low tongue of snow. Having reached snow below the glacier, we began climbing up and right and gained the lower glacier slopes after a short scramble up wet slabs topped with a 4-ft tall snow step.
Paul bravely led the rock and ice pitch above the 'schund. At first scoffing at the sight of the webbing hand-line dangling down from the summit, he was happy to take advantage of it for protection (backed-up with a cam) and then aided off it to pull through the troublesome band of ice just above the initial rock step. To speed things up, Martin and I then simul-climbed while Paul belayed from above, with Martin dragging up the second rope. Setting up a second belay station at the summit, Martin simul-belayed up another pair while I relieved Paul of his belaying duties. Dropping a rope end back down the pitch, I simul-belayed the last pair up to the summit.
After rappelling from the summit, we packed-away the ropes and gear and glissaded most of the way back to High Pass. Now descending the south-side of the mountain, we enjoyed another long glissade before making the long and tedious traverse back up towards Whitehorse Ridge and finally Lone Tree Pass. Once there, we all dropped our packs and made a short detour to bag Point 5249 (Lone Tree Peak) for a different perspective on Whitehorse Mountain. The rest of the descent from Lone Tree Pass went without incident, save for the aforementioned navigation issue I had, costing me about 30 minutes of extra fun in the brush, not to mention the scratches on my arms (I fell behind after tending to an issue with my gaiters). Curiously enough, had I simply descended the trail-less forested spur I was on, I'd have simply run into the trail after it traverses the brushy slope from a parallel spur at right. Ahh, well...all in the name of adventure, eh?
Click
here
to view photos.