Yak Peak - Yak Peak Trail, October 2017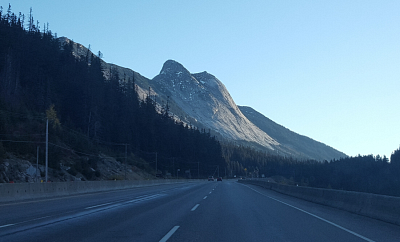 Yak Peak is the prominent granite dome just on the north side of the highway as one drives over Coquihalla Pass. It is especially noticeable when driving eastbound on the long gradual climb up from Hope. We've admired it's polished slabs en route to points east so many times that we've given it a name of our own - Mount Aga - as in, Agata, my wife who has always been particularly intrigued by the large exfoliated layers of rock so plainly visible to passing motorists.
As one might expect, the peak is also famous for its climbing routes, and which is what first piqued my curiosity. For years I had my eyes on climbing Yak Crack - a 14 pitch 5.9 route that also happens to be the first route put up on the main face and remains a classic climb to this day. But then, that was back when I was sport climbing all the time and had a zeal for such things. Fast forward to 2017, where technical rock isn't so much my jam anymore and has been replaced with a passion for scrambles and peakbagging unlike ever before. And so, blessed with a nice October day I made my way over to the "Coq" and set out on the Yak Peak Trail, climbing up the enigmatic peak via its "descent" route.
Not much else to say other than, well, it's a way up. Steep in places but quick and dirty and in no time did I find myself wallowing through knee deep snow on the upper slopes. This made for some annoying travel post holing through a patch of scrubby evergreens on the final pitch up to the summit, whereupon I enjoyed fine views in all directions. Needle Peak across the highway just to the south looks particularly attractive from Yak and immediately moved to the top of the list for the next time I found myself in the area. Just scratching the surface and picking off the low hanging fruit for now. After Needle I might suggest looking into nearby Coquihalla Mountain - there's a fun ridge ramble on the peak that makes for a surprisingly enjoyable outing!
Click
here
to view photos.