Half Dome - Cable Route, August 1996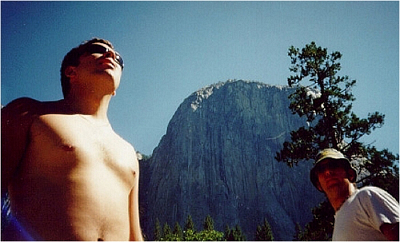 Maximizing our summer school break, Justin, Conan and myself drove out to stay with Justin's family at their cabin just outside Yosemite National Park. Justin suggested that we do the Half Dome hike; a long 8 or 9 mile trek one way along a very scenic trail with waterfalls, forests, alpine meadows and the final cable assisted summit scramble.
After what seemed like an eternity, we reached a broad col and the final scramble up Half Dome. The rock was smooth and polished and a fixed cable was attached to the face. A large pile of used stinky gloves lay at the base of the cable ladder. I picked out a not-so-smelly pair and started pulling my way up the rock. Good views and times were shared with all up on top. But I 'll spare you the juicy details, other than suffice it to say that the beer drinking, party going lifestyle of a college student doesn't lend itself well to 16+ mile hikes. I was a hurting unit the following day!
Click
here
to view photos.