Dreadnought Mountain - South Ridge, October 2018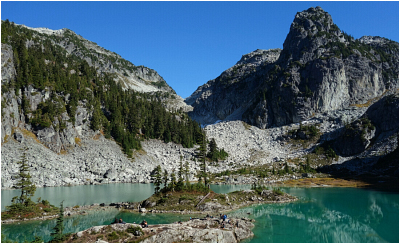 Dreadnought Peak is the highest summit among a small group of peaks surrounding lovely Watersprite Lake. Previously little known to the general hiking public, the area has experienced a popularity explosion in recent years. This trend has been attributed to construction of the BCMC's new Watersprite Lake Cabin completed in 2016, trail improvements and the advent of social media. For me, it seemed like an ideal late season venue, one with a reasonably short approach and without an overly lengthy drive to get to. Trailhead parking here would seem more than adequate for most such trailheads tucked away at the end of a rather longish forest road, but not here, at least on this October weekend. Upon reaching the cabin later that afternoon, I was barred from entry by a territorial gang of Millennials three quarters of a way through a 5th of whiskey. Just wanted to check out the damn accommodations is all, but I accepted their bribe and had me a swig before making my way around the south shore to the tent platforms on the opposite side of the lake. Fortunately, there were still a couple available. The sun went down, I crawled into my sleeping bag with broken zipper and shivered through the chilly Autumn night.
Popular as the cabin and lake shore are, one can take comfort in the fact that nobody seems to go much further. Up from the lake to the obvious saddle just below Dreadnought's South Ridge, where a navigation blunder had me nearing the summit of Watersprite Tower before I realized my mistake. Back down to the saddle, then up a horribly loose gully on Dreadnought's West Face to near where the west and south ridges meet. The remaining bit along the South Ridge to the summit is a pleasant romp with outstanding views in all directions. This is about as close as I have ever been to the elusive Mamquam Mountain, so tantalizingly near at hand and yet such a pain to get to. One day!
I returned to the lake where, as expected an Instagram gong show was once again in full swing. I quickly packed up the tent and got a jump on the herd before they began their return en masse. All in all, a worthy outing with opportunities for further exploration running the ridges from Dreadnought to Watersprite Tower to Martin Peak, BUT don't come here expecting a wilderness experience!
Click
here
to view.